Feature Story
Health Center Today, April 21, 2011
Two New Husky Heroes Honored
By Chris DeFrancesco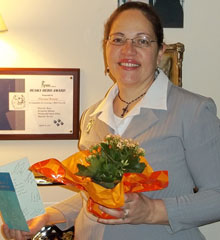 Marisol Koniar of Internal Medicine Associates is a 2011 Husky Hero.
Photo by Joseph Koniar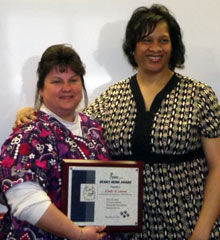 Cindy Letavec (left) of Correctional Managed Health Care, pictured with fellow CHMC nurse Margo Griffin, is a 2011 Husky Hero.
Photo by Michael Nicholson
Correctional Managed Health Care nursing supervisor Cindy Letavec and Internal Medicine Associates clinical office assistant Marisol Koniar are the newest Husky Heroes.
A UConn Health Center employee or volunteer becomes a Husky Hero upon receipt of his or her fourth PAWS award. PAWS is an acronym for "Part of a team, Awesome attitude, Wonderful work ethic, and Superior service." Husky Hero and PAWS represent two of the employee recognition awards offered by the Human Resource Department's workplace culture program Know Better Place.
Koniar is in her eighth year with IMA and has been recognized with a PAWS award each of the last three years. Her most recent followed a nomination from someone who never met her.
"We developed a working friendship over the phone and via email," wrote Kathy Fitzgerald from the Department of Pulmonary Medicine. "It is nice to speak with a helpful and friendly person such as Marisol. When information is needed regarding a sleep study it just takes only one call or email to Marisol to get all the needed information in a timely and efficient manner. The same cannot be said of other areas and external institutions. It makes my day to encounter someone so willing to go above and beyond."
Letavec joined Correctional Managed Health Care in 1997 as a head correctional nurse and has been a supervising nurse since 2004. She works in Functional Unit 3, which includes the Corrigan-Radgowski Correctional Center, in Uncasville, and the Brooklyn Correctional Institution. She was nominated for her most recent PAWS award by her supervisor, Mary Marto. From her nomination:
"Cindy works with all shifts, coming in on her off hours to in-service staff on new procedures (and some not so new), in order [for] the staff [to] feel comfortable in providing care, therefore allaying any patient issues that may have impeded nursing care. She brings forth innovative ways to ensure care is provided in an expeditious manner… Cindy has applied sound nursing practice utilizing her skills for teaching purposes. She has also engaged others to assist her."
Know Better Place keeps a list of past Husky Heroes going back to 2002 (PDF).