Feature Story
Health Center Today, April 6, 2011
UConn Well-Represented at National Academies of Practice Annual Meeting
Story submitted by Urban Service Track Team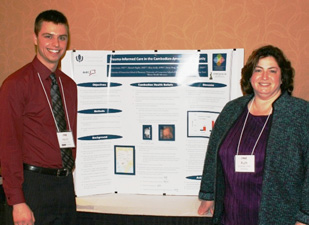 Fourth-year pharmacy student Kevin Crozier and Dr. Ruth Goldblatt.
The University of Connecticut was well-represented at this year's National Academies of Practice (NAP) annual meeting recently held in Washington, D.C. Dr. Ruth Goldblatt, clinical associate professor in the School of Dental Medicine, was inducted as a fellow and two Urban Health Scholars were the first students selected to present posters at the meeting.
NAP is the only interprofessional organization that encompasses the professions of medicine, dentistry, nursing, pharmacy, podiatry, optometry, veterinary, social work, and psychology.
Goldblatt was named a Distinguished Practitioner in the National Academies of Practice. The Academy is limited to 150 practitioners per discipline. The main purpose of this elite group is to advise public policy makers about the importance of interdisciplinary care.
Two Urban Health Scholars were the only students chosen to present posters the first evening of the meeting. Kevin Crozier, a fourth-year student from the School of Pharmacy who is mentored by Dr. Devra Dang, and Hannah Hughes, a second-year student from the School of Dental Medicine mentored by Goldblatt.
Crozier presented his poster on Trauma-Informed Care in the Cambodian - American Community and Hughes presented a poster titled University of Connecticut Urban Service Track - Interprofessional Education on the Care of the Underserved.
Prior to the poster session all three attended workshops on advocacy training and interdisciplinary clinical sessions. Crozier said, "Both posters received great interest and many were excited that UST was putting their ideals into action!"
Dr. Arthur Hazlewood, president of NAP, said, "Their poster presentation and their active participation in the advocacy workshop were indeed impressive. It is noteworthy that UConn is the first school whose students have participated in National Academies of Practice activities. Participation represents a serious commitment to the concept of interdisciplinary care and the understanding of the need to train a qualified workforce."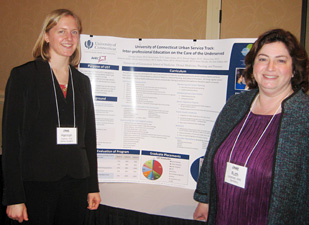 Second-year dental student Hannah Hughes and Dr. Ruth Goldblatt.
Mary Wakefield, administrator of the Health Resources and Services Administration (HRSA) gave the keynote address followed by speakers from around North America. "These presentations were about integrating interprofessional education into healthcare curriculum," observed Crozier. "It was awesome to hear these presentations because it solidified that UST is not only heading in the direction that the health care community wants to go but is also ahead of the curve in terms of implementing these ideals."
Hughes was impressed by how many different professions were represented at the NAP conference. "What surprised me the most was that the professionals attending the meeting were just as excited to meet us as we were to meet them. They were impressed to hear that UConn has a thriving organization, the Urban Service Track, that integrates students in four separate disciplines; and they were even more eager to get the perspective of two actively involved students."
The UST team felt it was uplifting and energizing to know that there are others across the country, in various disciplines, who truly believe in the team approach. For new inductees who began the conference as strangers, it had them leaving as working members on the same team. Crozier said, "It was especially inspiring to be in the presence of so many of the best healthcare professionals and leaders and it was great to see that one of our own USTers, Dr. Goldblatt, was accepted into this prestigious organization."
"The Urban Service Track is a unique model among professional schools," explained Goldblatt. "We often forget that in our day-to-day work as we try to think of new ways to engage our students and model interprofessional teaming. I think it has become such a great success because we all are learning from each other and growing professionally and personally. We truly like to work together and the students see that we are growing together. What better way to promote lifelong learning."
Hughes also observed, "Attending this particular conference has made me realize just how lucky we are to be given all of these opportunities to work on inter-professional teams. Because of UST, I practically take it for granted that I will be volunteering alongside pharmacy, nursing, and medical students. The professionals involved in NAP are working towards making this integrative care more of a reality for other students and practicing professionals."