RSS
Feature Story
Health Center Today, April 28, 2011
Canalis Delivers First Posthumous Raisz Lectureship
By Chris DeFrancesco

Dr. Ernesto Canalis was this year's speaker at the second annual Lawrence G. Raisz, M.D., Visiting Lectureship in Clinical and Translational Research.
The second talk in the visiting lectureship named after Dr. Lawrence G. Raisz was the first since his death last August.
An audience of more than 60 heard Dr. Ernesto Canalis, professor of medicine and orthopedic surgery, discuss the highly conserved cell signaling system known as the notch signaling pathway.
"I owe a lot of my career to Larry Raisz," Canalis said before getting into his lecture April 26 in Patterson Auditorium.
Canalis, who is an associate director of the Connecticut Institute for Clinical and Translational Research and chair of the CICATS Scientific Advisory Board, has published more than 300 articles. His laboratory discovered the existence of skeletal growth factors and pursued investigations on their role in skeletal function. His recent work has centered on factors determining cell fate and on the role of the notch signaling pathway in cell differentiation.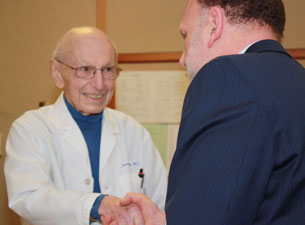 April 8, 2010: Dr. Lawrence Raisz accepts a plaque commemorating his lifetime of service to the Health Center at the reception following the premiere of the lectureship established in his honor.
Photo by Matt Cook
In his introductory remarks, Dr. Cato T. Laurencin, vice president for health affairs and medical school dean, called Canalis "a person really befitting the history and legacy of Larry Raisz."
The Lawrence G. Raisz, M.D., Visiting Lectureship in Clinical and Translational Research was established last year, and Raisz attended that inaugural talk. His widow, Helen, was among those in attendance this year.
"I can think of no better person to honor him, and honor his memory, than Dr. Canalis," Laurencin says. "He is truly a pioneer and a legend himself in the area of bone and endocrinology."
Canalis's presentation, "A Signal a Notch Above Others Determines Fate and Behavior," is available through the Health Center's Mediasite portal.