Feature Story
Health Center Today, April 18, 2011
'Dream Wedding' Caps Whirlwind Journey for Health Center Nurse
By Chris DeFrancesco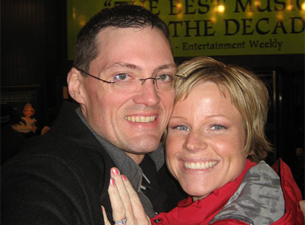 Assistant nursing manager Rebecca Green and Jason Whiting are the winners of FOX Connecticut's Dream Wedding. They were married on live television April 15.
Photo from http://rebeccaandjason.com
Rebecca Green was going to get married this fall, exactly three years after her gastric bypass surgery.
Instead, she was married by a TV news anchor last Friday on live television.
Green, an assistant nursing manager for Surgery 7, and Jason Whiting, chief marketing officer at Aeon, Inc. in Wallingford, were the winning couple in the FOX Connecticut Dream Wedding contest, chosen among three finalists March 16, also on live television.
"When our names were announced, I just lost it, tears streaming down my face, I had a hard time composing myself," Green says. "We were totally shocked! My tears were of pure shock, joy, and amazement as to what we just accomplished, plus sheer exhaustion. The contest had been all-consuming up until that announcement, and I just couldn't hold it in."
The emotions subsided with the realization they had less than a month to plan their wedding. They already knew it would take place at the Society Room of Hartford. But there was still a lot to do, and it would be a very public process.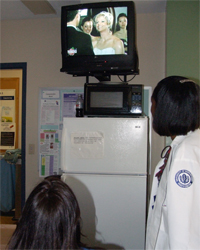 Coworkers catch a glimpse of the televised wedding in the seventh-floor lounge.
Photo by Chris DeFrancesco
"Our meal, wedding bands, bride's dress, bride's hair and makeup were all voted on by the public and we had to film for all of that," Green says. "It's been crazy trying to fit that all in between full-time jobs. But everyone has really been so amazing and supportive and without our employers backing us up, I don't know if we would have been able to pull this off."
Green met the man she would marry at a gastric bypass support group in New Britain. Whiting had had the procedure seven months earlier. Green would have hers three months later. Collectively they've lost 300 pounds. Their stories appear in greater detail on their website, http://rebeccaandjason.com, along with video updates as the big day approached.
The couple will honeymoon in the British Virgin Islands. Learn more about their Dream Wedding and view video footage >