RSS
Dr. Kanaan Discusses Pediatric Sleep on WTIC Radio's "Face Connecticut" Sunday, August 14.
Feature Story
Health Center Today, August 17, 2011
Back to Bed
This story first appeared in the September 2011 issue of House Call.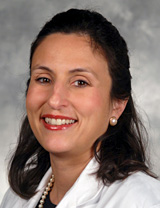 Dr. Jennifer Kanaan
When your child is excessively sleepy, it can be hard on the whole family. For some children and teens, poor sleep is an ongoing problem, and the side effects can compromise physical and mental health. Regularly disrupted sleep can affect mood, attention span, grades, and behavior — not to mention the sleep of parents and caregivers.
At UConn's Sleep Disorders Center, physician and staff specialists are equipped to diagnose a full range of sleep-related conditions and work with your referring physician to find the best treatment options. "Good sleep is critical for good health in young children and teens," says Dr. Jennifer Kanaan, an expert in sleep disorders in women, children, and teens. "When a child is having sleep difficulties, you may notice changes in behavior or grades. Social interactions, ability to concentrate or follow directions may change as well. Interestingly adults and children respond to insufficient sleep differently. In contrast to a sleepy adult, sleepy children paradoxically can be hyperactive. They also are much more sensitive to insufficient sleep than an adult."
Sleep needs change throughout a child's life, so it is important to talk to your pediatrician about the amount of sleep your child needs for good health. Teenagers, who traditionally need 9 to 9.5 hours of sleep per night, frequently do not get the amount of sleep they need. This can dramatically affect their emotional health. Insufficient sleep has been tied to adolescent suicides.
It is also critical to report snoring to your physician as it often times is a sign of an undiagnosed sleeping disorder. It is not normal for a child to snore. Additionally difficulties initiating and maintaining sleep are symptoms that should be discussed at a physician visit.
If you see — or hear — signs of poor sleep in your child or teen, the UConn Sleep Disorders Center can provide a comprehensive sleep evaluation with state-of-the-art diagnostic equipment in a restful atmosphere. If overnight testing is needed, in-room accommodations are available so a parent or caregiver can stay with their child.
Dr. Jennifer Kanaan is a board certified sleep physician who also holds board certifications in pulmonary and critical care. She has a special interest in pediatric and adolescent sleep. To schedule an appointment with Dr. Kanaan, call 800-535-6232.