Feature Story
Health Center Today, August 2, 2011
Dr. Gerard N. Burrow Is Stepping Down as Chairman of the UConn Health Center's Board of Directors
By Maureen Mcguire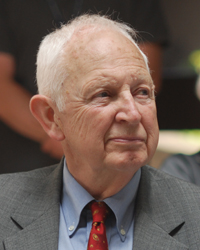 Dr. Gerard N. Burrow.
Photo by Janine Gelineau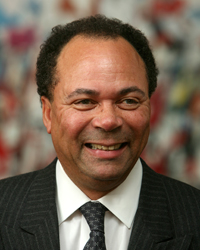 Sanford Cloud Jr.
Photo by Michael Fiedler
Dr. Gerard N. Burrow, chairman of the Health Center's Board of Directors for the last five years, announced today that he is stepping down at the end of his term on Aug. 31. However, he will continue to serve as co-chairman, along with Dr. Mun Choi of the School of Engineering, of the search committee working to identify a new leader for the Health Center.
Following Burrow's news, UConn Board of Trustees Chairman Larry McHugh announced that Sanford Cloud Jr., who is currently vice chair of the Board, will be appointed chairman of the Board of Directors and a member of the UConn Board of Trustees, effective Sept. 1.
"I am deeply grateful to Dr. Burrow for his strong leadership and judicious counsel during his two terms as chairman and his concurrent terms on the University's Board of Trustees," McHugh said.
"I am delighted that Jerry will continue to serve as co-chair of the search committee for the Health Center's new vice president for health affairs and UConn School of Medicine dean. Jerry's leadership on the Search Committee is critical because of his profound understanding of the Health Center and the demands of the position. With Jerry at the helm, I have no doubt that we will identify a compelling leader, who will transform this Health Center into one of the leading research, academic and clinical sites in the nation," McHugh added.
One of the most visible accomplishments during Burrow's tenure was the recent passage of Gov. Dannel P. Malloy's Bioscience Connecticut initiative which secures long-term solutions for the Health Center's clinical, academic and research enterprises. This victory followed years of thoughtful discussions with elected officials and other regional leaders. In all, Bioscience Connecticut calls for the construction of a new patient care tower, renovations to the John Dempsey Hospital and the original research tower, new incubator space for emerging bioscience businesses, a 30 percent expansion of the medical and dental schools and the construction of a new ambulatory care building.
Also, under Burrow's tenure, the Health Center became a regional and national leader in stem cell research and completed – on time and under budget – construction of the award-winning Cell and Genome Sciences Building which has already fostered powerful collaborations in bioscience initiatives.
Along with his work at the Health Center, Burrow is widely respected in medical, research and non-profit fields. He is the president and chief executive officer of the Sea Research Foundation, Inc., which includes Mystic Aquarium and the Institute for Exploration. In addition, he is the David Paige Smith Professor Emeritus of Internal Medicine and Dean Emeritus of the School of Medicine at Yale University.
His successor, Sanford Cloud, is also very well known in the region, state – and beyond – and has served on the Health Center's Board of Directors for six years, along with many other leadership positions. As chairman of the Health Center's board, he will also serve on the Board of Trustees for the University.
"During his tenure on the Board, Sandy has shown insights that have advanced the Health Center's mission. His thoughtful and engaging leadership skills will be critical in the years ahead as the Health Center implements the many elements of Bioscience Connecticut," McHugh said.
Cloud is the chairman and CEO of The Cloud Company, LLC, a real estate development and business investment firm and serves on several civic and philanthropic boards. He is the former president and chief executive officer of the National Conference for Community and Justice (NCCJ), a human relations organization dedicated to fighting bias, bigotry and racism in America and promoting understanding among all races, religions, and cultures.
Cloud also helped found National Voices for an Inclusive 21 Century, a collaboration of national human relations and civil rights organizations that work together to confront bias, bigotry and racism. Cloud was a partner in the law firm of Robinson & Cole in Hartford and is a former two-term Connecticut State Senator. Through much of the 1980s, he worked for Aetna Inc., as vice president of Corporate Public Involvement and executive director of the Aetna Foundation.