Feature Story
Health Center Today, August 18, 2011
A Commitment to Community Service
By Noreen Kirk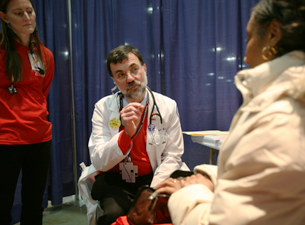 Dr. Bruce Gould talks to a patient during a free Care Clinic in Hartford.
Photo by Michael Fiedler
This story is the ninth of a multi-part series on the history of the Health Center. The entire series can be read at the Health Center's 50th Anniversary website.
As a public institution, the Health Center has always taken seriously its role in serving the people of Connecticut. Whether it's providing clinical care to the indigent, guiding urban youngsters into health careers or helping state residents obtain the health information they need, the Health Center is a driving force in enhancing the well-being of Connecticut residents.
"The University of Connecticut Health Center has a long and rich history of serving the underserved," says Dr. Bruce Gould, associate dean of primary care and medical director of the Burgdorf/Bank of America Health Center in Hartford's North End. The clinic provides outpatient health services to residents who might not otherwise have access to care. It receives approximately 30,000 patient visits every year.
Students from the School of Medicine manage a weekly medical clinic at the South Park Inn homeless shelter in the capital city's South End. Begun in 1987, the clinic is staffed by student and physician volunteers who provide primary care, counseling and information to approximately 500 patients per year. Students also provide care at the Salvation Army South Marshall Street Clinic and hold a weekly clinic at the Willimantic Soup Kitchen. From June to October, volunteer students and faculty operate a Migrant Farm Workers Clinic, going to worker camps throughout the state to provide primary care to transient workers. Through the clinics, students provide much-needed medical care while learning about the unique needs of Connecticut's poor.
Students, residents and faculty from the School of Dental Medicine volunteer their time and expertise at the annual Mission of Mercy, a large-scale, two-day dental clinic where dental treatment is provided at no cost to people who cannot afford it. In 2010, the team saw an estimated 2,000 patients.
The dental school also partners with 17 community health centers and hospital clinics across the state, where students learn in a community setting while providing care to largely underserved populations.
"We believe as a school we have to be out there where the care is required," says Dr. Lamont "Monty" MacNeil, dean of the School of Dental Medicine.
Dental school students and faculty see nearly 39,000 patients annually in the community, in addition to the 100,000 or so they see in Farmington clinics each year.
"We are the major provider of care to the underserved in Connecticut," says MacNeil. The school is also the major provider of Medicaid services in the state and last year provided more than $6 million of uncompensated care to Connecticut citizens. "This taxes us fiscally, and we have to be very efficient to accommodate the burden, but we see it as part of our mission as a state school."
In 2007, the Health Center launched the Urban Service Track, an innovative curriculum that prepares medical, dental and nursing students to serve the unique needs of urban populations. Developed in collaboration with community agencies, the curriculum includes many hours of community service. Students do everything from providing health screenings in urban neighborhoods to introducing residents to the benefits of community gardening.
Attracting students from minority groups typically underrepresented in the health care field is the goal of the School of Medicine's Department of Health Career Opportunity Programs (HCOP), which has been led for 25 years by Dr. Marja Hurley, the interim senior associate dean for education and the associate dean for HCOP. The department provides programs and activities designed to give minority students early exposure to biomedical science careers and create a diverse pool of students who enter and complete medical school. The department also provides a supportive environment for minority students who enroll in the UConn School of Medicine.
The School of Medicine runs Connecticut's Area Health Education Center, or AHEC Connecticut. A program of the federal Department of Health and Human Services' Health Resources and Services Administration, AHEC's goal is also to encourage young people from minority and underserved groups to pursue careers in health care. AHEC provides students with skills, experiential learning and volunteer opportunities designed to stimulate their interest in these careers.
"The idea is to create more health care providers while assuring a diverse workforce," says Gould.
An Information Gold Mine, Free to State Residents
The Health Center's Lyman Maynard Stowe Library, one of the finest medical libraries in the country, is also an invaluable resource for Connecticut residents. In addition to being open to the public for research, the library operates Healthnet, the Connecticut Consumer Health Information Network. Residents seeking information about a personal medical concern can call the library's Healthnet service (860-679-4055) weekdays from 8:30 a.m. to 4:30 p.m. and speak with an experienced medical information specialist who will research the caller's question and mail to him or her a free, customized packet of information. When calling evenings and weekends, the person may leave his or her name, telephone number and a brief message and someone will call them the next business day.
"This service gives people an opportunity to learn more about a recent diagnosis and its related medical care," says Program Director Alberta Richetelle, "I think the information we provide helps them make more informed decisions and have a more in-depth discussion with their doctor about their options."
Healthnet also provides training to staff at public libraries across the state on how to help patrons research health questions.
Library Director Evelyn Breck Morgen notes that the UConn Health Center Library is the only publicly available academic medical library in the state. "Everyone is welcome to use our print and digital journals, textbooks and databases whenever the library is open," she says. Library hours, which include evenings and weekends, are listed at http://library.uchc.edu.