Feature Story
Health Center Today, August 17, 2011
New Cancer Support Group at Health Center Features Quilting
By Chris DeFrancesco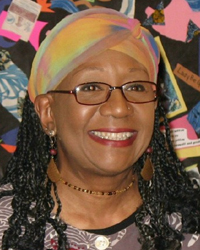 Renowned quilt artist and cancer survivor Ed Johnetta Miller is the patient facilitator for a new quilting support group at the UConn Health Center for those affected by cancer.
Photos courtesy of
Ed Johnetta Miller
A new cancer support group for women seeks to harness the therapeutic power of quilting.
"I find quilting to be relaxing and very peaceful," says Ed Johnetta Miller, a cancer survivor, quilt artist and one of the group's patient facilitators. "I go off into my own world. I am creating, and that is very exciting for me. It gets my mind going in a completely different direction and I'm not dwelling on my illness."
The group plans to meet monthly, starting Saturday, August 27, from 2 to 3 p.m. in the UConn Health Center's Onyiuke Dining Room. Additionally, Miller and Health Center volunteer Kim Hackett plan to organize regular visits to the infusion area and work with patients in the Carole and Ray Neag Comprehensive Cancer Center.
"Our vision for this group is to include this beautiful art form into our healing process," Hackett says. "The quilts will become a part of the cancer center's artwork. Each quilt will have a scrap book to share the fabric's story, for example, a fabric that was part of a child's receiving blanket."
"This is a wonderful opportunity for our patients to receive support and encouragement from one another while learning a new hobby or sharing their love of the trade with others," says Pam Nixon, the William Raveis-American Cancer Society patient navigator at the Neag Comprehensive Cancer Center. "It is our hope that members will find comfort from one another and inspiration in creating a quilt that is not only a beautiful piece of artwork, but tells a story—their story."
Miller, whose work is in museums around the world, is a patient of Dr. Susan Tannenbaum.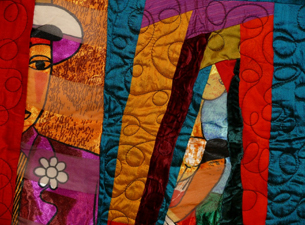 "Dr. Tannenbaum found out I was a quilt artist, and I told her, I understand it's a cancer center, but we could make it a more aesthetically pleasing environment," Miller says. "Why not have quilts on the wall? She was excited by this."
The other hope is to find local quilt artists and enlist their help working with patients in between the monthly meetings.
"We'll have kits for the patients, and while they're doing their chemo they can put their little squares together," Miller says.
No quilting experience is necessary, only a willingness to learn.
"The idea is, they're not thinking so much about what they're going through," Miller says. "They'll work with their hands and get creative."
For more information about the new Quilting Support Group, call 860-679-7820 or email psnixon@uchc.edu.