Feature Story
Health Center Today, August 16, 2011
Health Center Study Finds Training Approach Appears to Improve Surgical Residents' Patient Communication Skills for Specific Cases
By Carolyn Pennington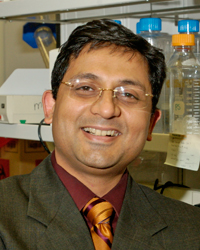 Rajiv Chandawarkar in his lab at the UConn Health Center.
Photo by Peter Morenus
A study by Health Center physicians finds training surgical residents in communication skills may help in specific cases but not in their general dialogue with patients. The report is published in the August issue of Archives of Surgery.
Surgeon Rajiv Chandawarkar, principal author of the study, says surgical residents in general do not have a formal curriculum for patient education and, instead, are expected to learn these skills in practice.
"But without communication skills," Chandawarkar says, "even the best surgical training is rendered ineffective. So the goal of this project was to teach surgical residents to incorporate patient-centered communication skills into their practice."
The study implemented by Chandawarkar and his colleagues involved a three-step process with 44 general surgery residents. During the first phase, residents underwent a simulation that involved giving standardized patients (SPs are typically actors trained to play the role of patients) a diagnosis of breast or rectal cancer. Their skills with condition-specific content (such as delivering the diagnosis and helping the patient understand it) and general communication were scored by the SPs.
Step two involved a three-part interactive program comprising principles of patient communication, a surgeon's experience in various roles (physician, patient and patient's spouse) and role-playing in which residents played patient, physician and observer and self-rated their performances.
In step three, residents were reassessed by SPs using the same tools as in step one, with the type of cancer switched so that residents who first encountered a breast cancer simulation later encountered a rectal cancer simulation and vice versa.
A significant improvement was seen in residents' case-specific performance, from an initial median (midpoint) score of 8.5 (on a scale of 0 to 13) to a final median score of 11. Significant differences were not seen between pretest and posttest scores of participants' general communication skills. Scores did not appear to vary by type of cancer, indicating a lack of inherent bias with regards to performance comparisons in either case.
"Our results show that case-specific improvements seem more amenable to measurable improvement than general communications skills, at least with the limited short-term training that we used," says Chandawarkar.
Chandawarkar and his team add that the methods used in this study could be adopted by other teaching hospitals or community health centers, with modifications as needed by each program.
Archives of Surgery is one of the JAMA/Archives journals and this article is part of the In Evolution: Surgical Training theme issue.