RSS
Watch the Video
Feature Story
Health Center Today, August 11, 2011
Slimming Superfoods – Nutritional Powerhouses That Can Also Help You Lose Weight
By Carolyn Pennington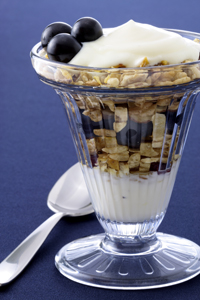 Some foods are automatic diet-busters. They cause cravings, fail to fill you up and generally cause havoc with your waistline. At the other end of the scale are the slimming superfoods.
These so-called superfoods are nutritional powerhouses that help build bones, prevent chronic diseases, improve your eyesight, and even keep your mind sharp. Whether they're low in calories or high in fiber, these foods are a dieter's best friend.
Health Center clinical dietitian Amy DiCioccio says superfoods are made even more super when they're produced close to home because foods lose much of their nutrient density in commute. And the local summer bounty is often much less expensive than superfoods sourced from thousands of miles away.
Here are some of DiCioccio's favorite superfoods:
Spinach – fiber of raw fruits and vegetables can aid weight loss by increasing the feeling of fullness.
Quinoa – an ancient grain that is cooked like rice. It has fiber (5gm/cup) and protein (8gm/cup) to help aid weight loss by making you feel full longer.
Salmon – high in omega-3 fatty acids for heart health and is high in protein, low in calories, and low in saturated fat.
Blueberries – high in antioxidant content. Wild blueberries may be one of the best age-fighting foods to add to the diet.
Walnuts – high in omega-3 fatty acids. They are nutrient rich and high in fat (healthy fats) so portion size is important to remember.
Yogurt – it aids weight loss with the combination of carbohydrates and protein. Probiotics balance bacteria in the gut aiding stomach health and bowel function.