RSS
Watch the Video
Henderson gave a presentation about "Check a Box" following a screening of the Discovery Health CME program "Chasing Zero: Winning the War on Healthcare Harm" January 19 at the UConn Health Center.

Henderson was lead author of a paper published in the March 2010 Journal of Patient Safety.
Feature Story
Health Center Today, February 22, 2011
Medical Student Recounts Experience as AMSA Health Justice Fellow
By Dan Henderson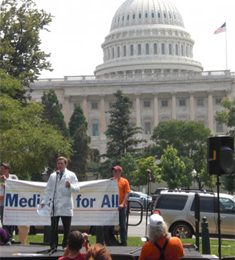 Dan Henderson speaks at a rally outside the U.S. Capitol Building. Henderson, a fourth-year medical student, spent a year in Washington, D.C., as health justice fellow for the American Medical Student Association.
Photos courtesy of Dan Henderson
Like a fine wine, the journey of becoming a physician should be savored.
That was my view when, during my third year of medical school, I decided to try something unconventional—risky, even. Leaving UConn for Washington, D.C., I would spend a year exploring. Serving as the health justice fellow of the American Medical Student Association (AMSA), I aimed to convince myself, and my peers, that medical students can change the health care system for the better. I wanted to understand how leadership takes root among physicians and physician-trainees. Here, I hope to describe a surprising and wonderful year away from the classroom and clinic; and how it has changed my outlook on becoming a doctor.
In May 2009, I sat down for the first time at an empty desk in a glass office outside Washington, D.C. Except for a 15-minute orientation to the office, my schedule was completely empty, along with my inbox, calendar, and voice mail. It was scary. I began planning, guided by a single question: Why do doctors—and especially doctors in training—choose to "get involved?"
This inquiry came from a growing body of research into "professionalism" in medicine. In a sweeping 2002 article, "Medical professionalism in the new millennium: A physician charter," a consortium of physician organizations called for a "commitment to the promotion of public health and preventive medicine, as well as public advocacy on the part of each physician." In 2002, Russell Gruen, Eric Campbell, and David Blumenthal (now President Obama's director of Health IT), writing in the Journal of the American Medical Association (JAMA), showed that while more than 90 percent of doctors across specialties viewed civic engagement—in this case, "community participation, political involvement, and collective advocacy"—as important, only 25 percent had engaged in political involvement (other than voting) or collective advocacy in the last three years. The finding seemed unlikely, that a profession so explicitly driven by altruism could behave so reservedly, but the data were real. They also reflect the experiences of many amateur organizers in student groups. I wanted to find out more, and perhaps even develop a leadership "playbook" that could sketch the route to successful engagement of professional students as leaders.
As the summer approached, my job began to resemble that of a traveling salesman. Driving and flying across the country, I visited campuses and conventions to talk to students about problems facing health care: soaring educational debt, the controversy over resident physician work hours, stark disparities in health along racial and ethnic lines, and a staggering burden of preventable harm caused by care itself. Often, after speaking to a room of 100 or so students, I had the chance to listen to a dozen or so over dinner. What were they passionate about? What had brought them to medicine? What experiences as students had shaped their notions of professionalism? The answers provided material for consideration on the long drive to the next campus or convention.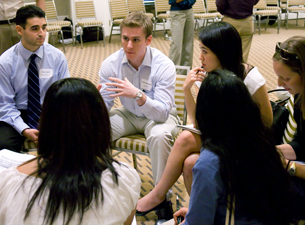 In his role as AMSA health justice fellow, Dan Henderson facilitates a student planning session.
That fall, after a long and reflective sojourn through the Midwestern U.S., an opportunity for a further step presented itself, in the form of a patient safety innovation. Atul Gawande, the noted surgeon, author, and health policy scholar, had published the WHO Surgical Safety Checklist. His article in that January's New England Journal of Medicine had shown dramatic reductions in complication and death rates globally with the checklist. As a simple, concrete, and ready-to-use solution, the checklist seemed an ideal nucleus around which students could lead change.
Through sheer good luck, I was invited to join a group of medical students with Dr. Gawande and Dr. Don Berwick, then CEO of the Institute for Health care Improvement (IHI), a Cambridge, Mass., based think tank. The team was trying to spread the surgical checklist among medical students. Fitting the idea to the mold of AMSA-style advocacy, we found our approach. We discovered in Dr. Gawande's data that the checklist was so effective, a single medical student using it during her surgical rotation alone would, statistically speaking, save one life. Around this idea, in October 2009, our team launched, "Check a Box. Save a Life. The first global student sprint to improve health care." Beginning with a live webcast featuring speeches from Drs. Gawande and Berwick, followed by a call to action for students worldwide, the event engaged 1,400 students from 11 different countries across five continents. The sustained campaign succeeded in precipitating student-led initiatives at about three-dozen campuses. Among these was the University of Illinois at Chicago Medical School. There, a plucky second-year student successfully brought about an implementation of the checklist across the hospital system. It even became integrated in the system-wide electronic medical record. The campaign was not only a success, but had probably saved lives!
The year half over, my focus shifted to the lessons of the first six months. What had made "Check a Box" succeed, and why was it different from similar efforts that had failed to engage physicians and trainees? The search for answers led me to a few organizations that seemed uncommonly effective in motivating safety leadership: the IHI, the Mayo Clinic in Rochester, Minn., and Virginia Mason Medical Center in Seattle. Each of these organizations has had at least a whole book written about it, and understanding and explaining them are well beyond my capability as anthropologist or writer. What I did notice was that in all three cases, there was an explicit focus on ensuring a culture of teamwork, communication, and continuing improvement. Everyone seemed happy and engaged in his or her work. Repeatedly at Mayo and IHI, I heard employees describe how they had expected to leave years earlier, but loved their work too much to move on. Amazingly, employees at both organizations used the same analogy: "This place is like Disneyland."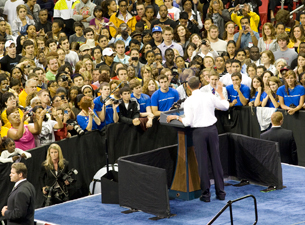 Dan Henderson (white coat) has a front-row seat at a presidential rally on health care reform at the University of Maryland.
It was an "Ah-Ha!" moment, one of many, and I felt as if I was almost within reach of the answers I had been looking for. At the IHI's National Forum in Orlando, there was another breakthrough. At a dinner with Marshall Ganz, an expert on social organizing and key architect of the Obama presidential campaign, Ganz offered the table his definition of leadership: "Leadership means taking responsibility for empowering others to achieve common purpose amidst uncertainty." Professor Ganz's take on leadership perfectly captured the leadership stance of Dr. Berwick, the CEO of Virginia Mason, and the Mayo teams. On further reflection, it reminded me of Dr. Rodney Hornbake, the primary care physician I had spent three years with through UConn's Student Continuity Practice (SCP) program. Borrowing Professor Ganz's phrasing, Dr. Hornbake empowered his patients to achieve improved health, amidst uncertainty about their conditions and health choices. This was the biggest "Ah-Ha!" moment, that doctoring and leadership are not at all separate. Rather, that the core competencies and actions of great leaders might be the same as those of great doctors. If this were true, it might also follow that the way to bring about better health for patients, better training for students, and more enjoyable, "Disneyland-like" roles for providers would be through a greater emphasis on leadership not simply as a quality or talent, but as a discipline in itself, and an outcome of training.
Indeed, this belief was the most important lesson I took away from the year in D.C. Returning to UConn in May, I had a new appreciation for the challenges of practicing medicine, and of teaching students like me to do so. One of my first days back on campus was an information session about the residency match, led by Dr. Anthony Ardolino, then dean of students. As he led us through the complex, anxiety-laden process, I quietly appreciated the skills of a mentor and adviser of four years from a new perspective.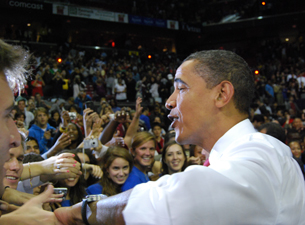 While on his AMSA fellowship in Washington, D.C., Dan Henderson briefly crossed paths with President Obama.
The year with AMSA was unique, and uniquely fulfilling. It brought me to the fore of the health care reform debate, and the politics and policies behind it. It allowed me to dive deep into issues of health policy and health care improvement, and to learn from a wide variety of mentors and experiences. Indeed, the year with AMSA was so eye-opening, that it has led to another year away from home. In order to gain formal training in health policy and management, I'm currently studying for a Master of Public Health (M.P.H.). The coursework—in health economics, non-profit management, and population health—is a far cry from the anatomy lab, but feels like the right step toward applying the lessons from the AMSA year to health system change.
What was most valuable about the year as AMSA's health justice fellow, however, was the ability it provided to appreciate the profession of medicine and those who lead it in a new light. Through the lens of leadership development, there are countless opportunities to advance health care: making it better and safer for patients, too many of whom are harmed by the care we provide, and keeping it engaging and enjoyable for providers, who are too often separated by unnecessary hurdles from the patients they wish to help. As with the oenophile who relishes the complexity of a perfect vintage, savoring medical training has allowed me to appreciate its nuances, to reflect on the future of health care leadership, and to gain a richer understanding of what it will mean to one day enter a profession.