Feature Story
Health Center Today, February 22, 2011
New Bladder Cancer Support Group to Meet Saturday
By Chris DeFrancesco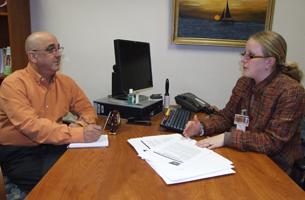 Bladder cancer survivor John Vichi visits patient navigator Pam Nixon in the William Raveis-American Cancer Society Patient Navigator office. Both helped organize the new bladder cancer support group at the UConn Health Center.
Photo by Chris DeFrancesco
Recognizing that bladder cancer can be a lonely journey for patients and families, the UConn Health Center is organizing a bladder cancer support group.
The Carole and Ray Neag Comprehensive Cancer Center invites patients, family members and caregivers to attend what will be a series of regular meetings starting Saturday, February 26, at 3 p.m. in the Onyiuke Dining Room. The topic for the group's inaugural meeting is "A Team Approach to Bladder Cancer" and will include introductions to the patient group facilitator, urologic oncologist, medical oncologist, patient navigator, and nurses.
"With our patient navigator and fantastic nurses, the Neag Comprehensive Cancer Center already has some great institutional support systems for our patients," says Dr. Jessica Clement, medical oncologist and one of the support group's organizers. "But we have recognized that there's a lack of a support system in the region for bladder cancer patients in particular."
Patient group facilitator John Vichi, 48, of Canton, was diagnosed with bladder cancer in July 2007 and completed three years of treatment last year.
"It's helpful just to know that you're not the only one going through what a patient goes through during treatment, to be able to sit and share your experience during a period of time that may be the toughest of your life," Vichi says.
The UConn Health Center's bladder cancer support group is the only bladder cancer support group in New England established in partnership with the Bladder Cancer Advocacy Network.
"The group is open to patients, family members and caregivers all across the region, and is by no means limited to UConn Health Center patients," says Dr. John Taylor, urologic oncologist and support group organizer. "It is designed to act as a forum for those affected by bladder cancer to share experiences and information but most importantly provide each other with a supportive community."
"It is my hope that this group will provide participants both educational information as well as a place to share their experiences with others who understand," Nixon says.
Additional scheduled meeting dates include May 21, August 27 and November 19.
The Bladder Cancer Advocacy Network (BCAN – pronounced "beacon") is the first national advocacy organization dedicated to improving public awareness of bladder cancer, advancing bladder cancer research and providing information and support to people affected by bladder cancer. Founded in May 2005, BCAN is a cooperative effort among bladder cancer survivors, their loved ones and the medical community. For more information, visit www.bcan.org or call 888-901-BCAN (2226).
To get to the UConn Health Center main entrance: Entering the campus from Route 4, at the first stop sign, continue straight. Bear left at the fork and continue up the hill. The main entrance is straight past the next stop sign. Visitor parking is available on the other side of the gate. Directions to the UConn Health Center are available at http://www.uchc.edu/directions/home.html.