Feature Story
Health Center Today, February 3, 2011
Hypertension Expert Publishes First Human Study of New Blood Pressure Drug
By Chris DeFrancesco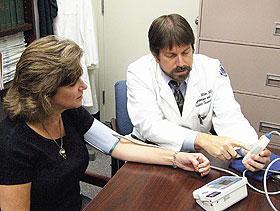 Dr. William White shows a patient how to use a home blood pressure monitor. White led a first-of-its-kind clinical trial of an investigational hypertension drug using 24-hour blood pressure monitoring.
Photo by Chris DeFrancesco
Research led by Dr. William White, professor of medicine and chief of the Pat and Jim Calhoun Cardiology Center Division of Hypertension and Clinical Pharamcology, finds the investigational drug azilsartan medoxomil to be more effective than other drugs in its class often used to treat high blood pressure.
The study was the first Phase 3, double-blind clinical trial of azilsartan medoxomil in human hypertensive patients, and the first trial of its kind to use 24-hour blood pressure monitoring to measure endpoint efficacy. White and co-authors found the drug was superior to both valsartan (sold under the trade name Diovan) and olmesartan medoxomil (trade name Benicar), two other medications from the class of drugs known as angiotensin receptor blockers, with no increase in side effects.
The article will be published in the March 1 issue of Hypertension, an American Heart Association Journal, and the full paper is already published online. The study abstract is available at http://tinyurl.com/Jan11Hypertension. Subscribers can access the full article from that page.