RSS
Watch the Videos
Ann Cowan, deputy director of the Richard D. Berlin Center for Cell Analysis and Modeling (CCAM) at the University of Connecticut Health Center, discusses how the center's new high tech tool – a computer display wall - is being used to advance research.
Ed Boyce, application developer for CCAM, describes the 12 panel computer display wall and how it functions.
Feature Story
Health Center Today, February 18, 2011
New High-Tech Tool Helps Health Center Researchers Make New Discoveries
By Carolyn Pennington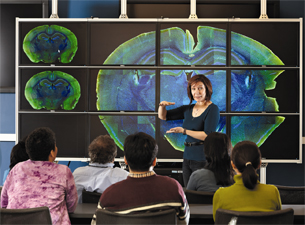 Elena Edelstein, system administrator, explaining the functions of a 12 panel computer display wall with 50 million pixels.
Photo by Lanny Nagler
UConn scientists now have at their disposal a new high-tech tool that could change the way they do their research.
The Health Center's Richard D. Berlin Center for Cell Analysis and Modeling (CCAM) has acquired through a federal grant a 12 panel tile display wall with 50 million pixels which allows researchers to see images like they've never been able to before.
"This large display wall lets us look at the big picture but also allows us to focus on the smallest changes within that very large region," says Ann Cowan, deputy director of CCAM and a professor of molecular, microbial and structural biology. "We can now analyze data in a much more efficient fashion."
CCAM is developing new approaches to determine how cells work, interact, and respond – and how to organize this data so it can be applied to human health. Much of the research involves analyzing large data sets at extremely high resolution which sometimes proves to be an unwieldy and difficult task. The display wall has dramatically changed that. Each panel is powered by its own computer which enables very fast performance when panning or zooming on the large data sets. And the extremely high resolution allows scientists to see the subtlest of changes.
For instance, standing in front of the display wall, Cowan points out the part of a mouse brain that carries a mutant gene for autism. "We can look at the individual cell structure within this brain and see exactly how these cells are misformed in the mutation as compared to the normal brain. It begins to give us clues into what actually causes the disease before symptoms are showing."
Investigators from the Department of Genetics and Developmental Biology have been among the first to take advantage of what the display wall has to offer. It's advanced the research of Stormy Chamberlain, who is studying Angelman's syndrome, an autism-related neurodevelopmental disorder.
William Mohler, who is interested in the development of tissues and the innovative application of light microscopy to biology, says "I have viewed some of my extremely large and complex images and collages that could simply not be viewed without printing to a poster. With the wall, we can explore these images more easily." Mohler and Ed Boyce, application developer for CCAM, are working on being able to synchronously simulcast a whole collage of multidimensional movies on the wall at the same time. "This will allow us to explore time and space inside tissues and cells in a whole new way," adds Mohler.
"Gone are the days when scientists had to crowd around one small low-res computer screen analyzing their results," says Boyce. "The display wall fosters a much more collaborative experience among our researchers."