Feature Story
Health Center Today, February 8, 2011
A Retrospective of Alan Tompkins Work Is on Exhibit in LeWitt Gallery
By Carolyn Pennington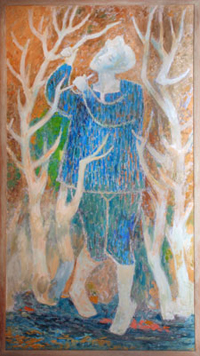 Artwork by Alan Tompkins.
Exhibit: Retrospective by Alan Tompkins and The Way I See It by Carol T. Moore
Where: Celeste LeWitt Gallery, Food Court, UConn Health Center
When: Now through May 18, daily 8 a.m. to 9 p.m.
About the artists:
A prolific artist, Alan Tompkins continued to paint into his 100th year and strongly desired one thing: to be remembered for his art. ďIím not a hobbyist, Iím not an educator,Ē said Tompkins. ďI want to be remembered as a painter.Ē Tompkins produced thousands of paintings, many showing the influence of Cubism and abstract art, during a long and productive career. Tompkins played a pivotal role in the formation of the University of Hartford. He was director of the Hartford Art School in 1957 when it merged with the original Hillyer College and the Hartt College of Music to become the University of Hartford. He served as director until 1969 and then taught art history and visual studies until his retirement in 1974. A graduate of Columbia University and Yale Art School, he taught painting at John Herron Art School, Cooper Union, and Columbia University. Tompkins also worked as a book illustrator, muralist, portraitist, industrial designer, and lecturer. Tompkins died in 2007 and his family recently donated more than 100 of his paintings to the Health Center.
Carol T. Moore is recognized for her colorful, energy-charged paintings. Recent pastel works reflect her interest in negative space and industrial sites. She also creates landscapes using pastels, oils and acrylics and makes pottery and wall pieces. The recipient of numerous awards, her paintings are in collections throughout the United States and Canada. Moore was a featured artist in the Hartford Courantís iTowns and hosts a weekly television show in the Litchfield area. Moore teaches collage at UConnís Waterbury campus and painting and pottery at her Bantam studio. She is a member of art organizations such as the Connecticut Pastel Society, where she is co-president, and the Connecticut Academy of Fine Arts, among others.
The University of Connecticut Health Centerís collection of fine arts serves to enhance the environment and promote the sense of a caring community for patients, visitors, staff and students. Art is selected, acquired and exhibited by the UCHC Art Advisory Committee. To view a selection of the Health Centerís permanent collection visit: http://auxiliary.uchc.edu/art.