Feature Story
Health Center Today, February 10, 2011
Heart Failure Symposium: Care Across the Continuum
By Carolyn Pennington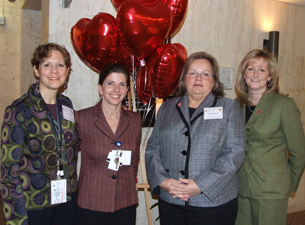 Symposium organizers (left to right) Cheryl Tafas, Georg'Ann Bona, Linda Mickelson, and Wendy Martinson.
Photos by Carolyn Pennington
The Heart Failure Symposium Care Across the Continuum held at the Health Center Wednesday attracted nearly 250 participants from hospitals, nursing homes and long-term care facilities throughout the state.
The purpose of the symposium was to examine a patient's journey along the entire care continuum starting from when the patient is admitted to the hospital to when that patient is discharged home with aid from a visiting nurse or to a long-term care facility.
"We're working to bridge the gap among the different caregivers," says registered nurse Wendy Martinson, quality assurance specialist at the Health Center and one of the organizers of the symposium. "We want to make sure everyone is on the same page for each patient's care plan."
Martinson is part of a collaborative group that meets monthly and includes representatives from VNAs and long-term care facilities. The Connecticut Hospital Association and Qualidigm, a health care consulting and research firm, helped organize the meetings to encourage communication, provide standardized education and make sure the groups share the same agenda and goals for the patients.
Hospitals can't work alone. The community setting is very important, explains Martinson. "When patients leave the hospital they may forget what they need to do to remain healthy or intentionally neglect to follow their discharge instructions. Working in collaboration with the care providers across the continuum will truly benefit this patient population. The overall goal is to enhance the patient's quality of life and prevent unnecessary hospitalizations."
Patients benefit when their caregivers are all on the same page."The readmission rate for heart failure patients is around 24.5 percent for most hospitals in the area," says Cheryl Tafas, registered nurse and education development specialist."We would like to lower the number of patients having to return to the hospital and patients typically do better when there is a more coordinated hand-off from the hospital to the VNA or long-term care facility."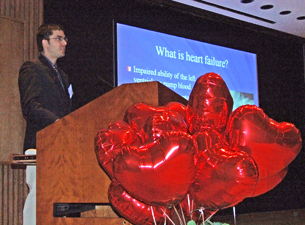 Dr. Jason Ryan, Calhoun Cardiology Center, discusses the diagnosis and treatment of heart failure during the symposium.
Heart failure is a major public health issue with substantial morbidity and mortality risks. According to the Centers for Disease Control and Prevention, around 5.8 million people in the U.S. have heart failure with 670,000 diagnosed annually. In 2010, heart failure cost the country $39.2 billion in health care services, medications, and lost productivity. Early diagnosis and treatment can improve quality of life, life expectancy and decrease hospitalizations.
The symposium covered a wide range of topics including: diagnosing and treating heart failure; reviewing nutritional and dietary needs; offering tools to identify a patient's health literacy and to maximize patient teaching through "teach back" and visual facilitation; and addressing the psychosocial needs of patients as they cross the health care continuum (inpatient and outpatient).