RSS
Watch the Video
During Heart Month: All Eyes on the Pat and Jim Calhoun Cardiology Center
During American Heart Month, marketing and outreach efforts will be focused on raising awareness about the resources, programs and services of the Pat and Jim Calhoun Cardiology Center. Look for ads about the Calhoun Cardiology Center on television, public radio, newspapers and popular web sites. Here are some of the promotions underway:
Women's Heart Health:
Dr. Anjanette Ferris appears in an ad on NBC Connecticut with anchor Yvonne Nava, encouraging all women to learn more about their risk of heart disease.
Also, Dr. Ferris and Dr. Joyce Meng appear in print and web ads about the Women's Heart Health Program at the Calhoun Cardiology Center.
And Dr. Ferris is the first Health Center physician to be featured in a new web chat feature on the Health Center's website. Learn more and listen to the podcast >
Heart Rhythm Disorders:
Print and web ads are also promoting the Heart Rhythm Center and linking to a patient testimonial on the Calhoun Cardiology Center's homepage.
Feature Story
Health Center Today, February 9, 2011
February Heart Month – Raising Awareness About Women's Heart Health
This story first appeared in the September 2010 issue of House Call.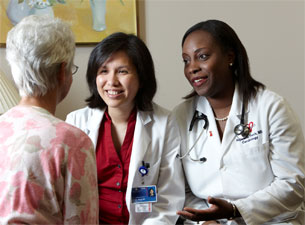 Drs. Meng and Ferris consult with a patient.
Cardiovascular disease is the leading cause of death for women in the United States. Affecting over 42 million women, nearly one in three will die of a heart related problem. But despite its prevalence, the problem is vastly underscored and still largely misunderstood. In an effort to spread awareness, the Women's Heart Health Program at UConn Health Center provides comprehensive care for women with heart disease or those at high risk. The qualified team includes cardiologists, hypertension specialists, interventional cardiologists, and other cardiac experts.
Housed in the Pat and Jim Calhoun Cardiology Center, the program focuses on all aspects of cardiac care from risk assessment and prevention to the treatment of complex cardiac conditions.
Joyce Meng, M.D., co-director, explains how the program also strives to explore the differences between men and women: "Some people don't realize that with heart problems there are important variations between genders. Studies show there are certain salient differences between men and women in terms of disease presentation, diagnosis, treatments, as well as outcomes. With this new program, we are focused on women's unique needs and really want to work with each individual woman to provide care and find solutions."
In the past, heart disease was considered a man's disease and women's heart health was often ignored. This program is a way to bring this issue to the forefront, says Anjanette Ferris, M.D., M.P.H., co-director. "As a university hospital we play an important role in the development of new treatments and can help women become involved in clinical trials. The cornerstone of the program however, is early detection and prevention because the best way to keep a woman's heart healthy is by avoiding heart disease altogether."
One of the unique aspects of the program is the attentive focus on personal history, individual symptoms, and patient's personal goals. Cardiologists meet with women of all ages to discuss their current condition, and assess these varying factors and how, in combination, they can translate into individual care profiles.
An optional lifestyle modification program is also available, tailored to individual diet, nutrition, and weight-loss goals. In addition, the program will begin offering educational classes on a variety of heart-health topics like nutrition label reading, exercise, and smoking cessation. "We're trying to make sure that women are aware that heart disease is a disease that affects them. Women are more likely to die of heart disease than of breast cancer, or any other disease, and we should all be proactive in trying to reduce our risk," Dr. Ferris says.
Heart disease is often preventable. One or more risk factors increase the likelihood of developing heart disease:

Smoking
High blood cholesterol and triglyceride levels
High blood pressure
Diabetes and prediabetes
Family history of premature heart disease
Obesity and being overweight

Lack of physical activity
Unhealthy diet
Drinking more than one alcoholic beverage per day
Stress or depression
Sleep apnea