RSS
Media Coverage
Feature Story
Health Center Today, February 9, 2011
Cardiologist Discusses Heart Rhythm Irregularities
By Chris DeFrancesco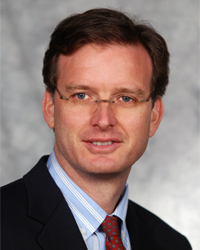 Dr. Christopher Pickett, co-director, Heart Rhythm Program.
Heart arrhythmias can come in different forms and be signs of problems ranging from a nuisance one can live with to a cardiac emergency.
Dr. Christopher Pickett, co-director of the Heart Rhythm Program at the Pat and Jim Calhoun Cardiology Center, says an arrhythmia can affect people of almost any age, often without regard to genetics.
"There are lots of very different symptoms; some of the most common arrhythmias come without any symptoms whatsoever and are important to diagnose because people can be at risk for a stroke," Pickett tells the FOX Connecticut Morning News. "People also can commonly have episodes of passing out or having a sensation of palpitations, where they feel their heart's racing—they're just sitting there watching TV and it feels like they're running a marathon. You can have symptoms just of being tired or short of breath when you exert yourself, or for unclear reasons. It really can present itself in many different ways."
Most often cardiologists diagnose arrhythmia using an electrocardiogram, commonly known as an EKG, but Pickett says sometimes a patient is sent home with a portable heart monitor when symptoms are sporadic. For those that require treatment, options include medications, pacemakers, defibrillators, and ablation procedures, which correct structural problems in the heart that cause an arrhythmia.