Feature Story
Health Center Today, February 28, 2011
Health Center Names New Director of Neag Comprehensive Cancer Center
By Maureen McGuire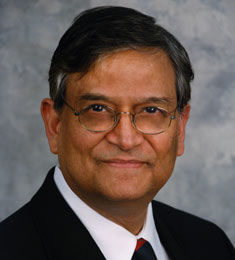 Dr. Pramod K. Srivastava
Dr. Pramod K. Srivastava, an accomplished leader in basic and translational research, has been named the new director of the Carole and Ray Neag Comprehensive Cancer Center.
Srivastava is a professor and interim chair of the Department of Immunology, director of the Center for Immunotherapy of Cancer and Infectious Diseases, and part of the leadership team of the Connecticut Institute for Clinical and Translational Science (CICATS). He holds the Physicians Health Services Chair in Cancer Immunology.
He has earned international acclaim for his groundbreaking work in the immunological function of heat shock proteins and in cancer immunology, is widely published in scholarly journals and serves on editorial boards for several major journals in immunology.
"Dr. Srivastava's experience and leadership skills will help steer the Neag Comprehensive Cancer Center toward continued success in all facets of research, education and clinical care," says Dr. Cato T. Laurencin, vice president for health affairs and medical school dean.
To assure continued growth across all of the multidisciplinary areas of the cancer center, a Cancer Center Advisory Group has been formed to work with Srivastava. The advisory group includes Drs. Robert Bona, Molly Brewer, Kevin Claffey, Douglas Peterson, and Daniel Rosenberg.
Srivastava succeeds Dr. Carolyn Runowicz, an internationally recognized leader in gynecologic oncology, who is leaving the UConn Health Center for a new opportunity with the Herbert Wertheim College of Medicine in Miami.