Feature Story
Health Center Today, February 1, 2011
State Grants Pay Off with Key Yale, UConn Stem Cell Finding
By Colin Poitras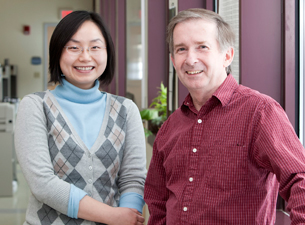 Ling-Ling Chen and Gordan Carmichael.
Photo by Lanny Nagler
Researchers at Yale University and the University of Connecticut have discovered that one of the key genes in human embryonic stem cell development also enhances stem cell growth and survival – a significant finding made possible by funding from the state's stem cell research program.
The Connecticut-based research will be published in the March issue of the journal Stem Cells. The researchers said the finding could lead to new insights into how stem cells regenerate or repair damaged tissue in a host of diseases.
The discovery would have been impossible without funding from the Connecticut Legislature in 2005 to provide state scientists $100 million over 10 years to spur investigation of human embryonic stem cells, the researchers said.
"This is a fine example of how our state's funding can bring researchers from different institutions in the state together to generate synergy," said Haifan Lin, professor of cell biology and of genetics, director of the Yale Stem Cell Center and co-author of the paper.
The research team focused on Lin28, one of a handful of key genes that together can make fully mature human cells become stem cells. Using sophisticated gene sequencing technology at the UConn Stem Cell Institute and Translational Genomics Core Facility in Farmington, the researchers found that Lin28 activates targeted groups of genetic molecules called messenger RNAs within cells in order to create proteins that are crucial in maintaining stem cell function and survival.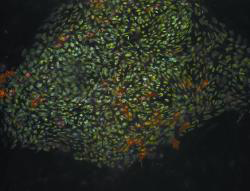 Stem cells.
Photo courtesy of the National Human Genome Research Institute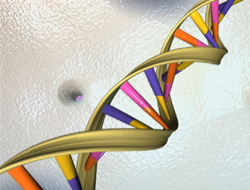 Photo courtesy of the National
Institutes of Health
Lin28 was previously known for its role in controlling the function of certain microRNAs as part of stem cell development. The Yale and UConn scientists discovered an entirely new function of the Lin28 gene: enhancing the growth and creation of embryonic stem cells. A reviewer of the paper called the data a "treasure trove" of information about the function of Lin28.
"We knew that Lin28 affects the expression of some important microRNAs," said co-author Gordon Carmichael, professor of genetics and developmental biology at the University of Connecticut. "But we were surprised to find that it is doing something we didn't expect it to do. What Lin28 is doing is making all these stem cells work better. It's improving cell metabolism, helping those cells that are weaker survive."
The work was overseen by senior author Yingqun Huang, associate professor of obstetrics, gynecology, and reproductive sciences at the Yale School of Medicine, who received an Established Investigator Award of $500,000 over four years from the state's stem cell research fund.
The fund also supports the work of Carmichael, who received an Established Investigator Award, and Ling-Ling Chen, assistant professor of genetics and developmental biology at the University of Connecticut, who received a seed grant designed to support the work of young Connecticut researchers.
The human embryonic stem cells used in the study were provided by Yale's Human Embryonic Stem Cell Culture Core Laboratory in New Haven.
"Without a doubt," Carmichael said, "this study would have been impossible without the close collaboration of investigators at both UConn and Yale, under the guidance and vision of Dr. Huang."