Feature Story
Health Center Today, January 21, 2011
Training Tomorrow's Experts in Aging
By Stefanie Dion Jones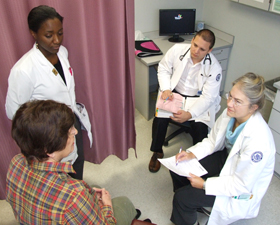 Dr. Gail Sullivan (right) sees a patient as third-year medical student Abimbola Aderinto (standing) and Dr. Lorand Kristof, a geriatric medicine fellow, observe.
There is one patient Gail Sullivan will never forget – the elderly man through whom she unexpectedly came to realize her fascination with the field of aging.
Early in her medical career, Sullivan encountered an older man in her unit who had recently been diagnosed with dementia and prescribed a tranquilizer typically used for schizophrenics. His family, meanwhile, had been advised to place him in a nursing home.
Sullivan and her colleagues, however, had other suspicions and decided to dig deeper – only to find that the man had been misdiagnosed. He was not demented, but very hard of hearing, and suffering from a spinal fracture due to osteoporosis. His condition was entirely treatable with pain medication and physical therapy.
"It was mind-blowing, being able to completely fix him when no one had been able to, just by taking a different approach – looking at his function and assessing his thinking and memory," says Sullivan. "If I hadn't had so much of a shock, maybe I wouldn't have been so excited about the field [of geriatrics]."
Today, Sullivan is inspiring others to dedicate themselves to the field, as a professor at the UConn School of Medicine and associate director for education at the UConn Center on Aging.
There, in addition to teaching and conducting research, she leads the Center on Aging's ongoing efforts to prepare the next generation of experts in geriatrics – not only future professors, but also administrators and researchers with a specific interest in the discipline.
A Growing Need for a Graying Nation
With life expectancies rising and baby boomers beginning to turn 65 within the next year, the country will be witnessing a dramatic shift in its demographics. According to a 2008 report from the Institute of Medicine, older adults will make up nearly 20 percent of the U.S. population by 2030.
With adults over age 65 set to make up an ever-larger proportion of the U.S. population, training tomorrow's leaders in geriatrics has perhaps never been more important or timely.
As a result, coursework in geriatrics is now integrated into the curriculum of all medical students at the UConn School of Medicine. An introduction to geriatric medicine also brings all first-year medical residents up-to-date on the field.
"We bring them up to date about what geriatrics is," Sullivan says. "I think there's a lot of ignorance because it's a brand-new field. I think people equate it with nursing home or hospice care. I have residents who say, 'I don't plan on working in a nursing home, so I don't need to know geriatrics.' Well, that's maybe 5 percent of geriatrics. Most elders are not in nursing homes; they're at home, seeing their doctors in the clinic."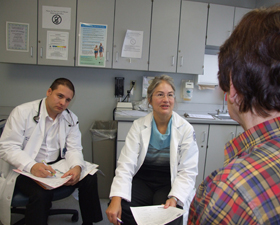 Dr. Lorand Kristof (left), a geriatric medicine fellow, observes as Dr. Gail Sullivan speaks with a patient.
The Center on Aging's education efforts reach other audiences as well. For instance, researchers focused on aging-related studies exchange ideas and discuss their work in informal Center on Aging forums, while nursing home employees and administrators can take part in a free geriatrics conference series organized by the Center. Practicing physicians and others in the health care community also gather for grand rounds sessions to review the latest findings on a broad range of aging-related topics.
The nationally known, two-year Geriatric Medicine Fellowship, led by Sullivan, is the Center's most prominent education program. One of the largest of its kind in the nation, the fellowship program recruits physicians specializing in internal or family medicine who have chosen to devote a minimum of two years to acquiring advanced skills specifically in geriatrics. Fellows receive experiential training in such areas as aging research, policy, academic leadership, teaching, and clinical program development – skills that will ultimately allow them to make an impact on the field of geriatrics in the future.
As Sullivan points out, there are currently only about 300 geriatrics fellows graduating each year across the country – too few even to replace retiring geriatricians. Training capable clinicians, then, is simply not enough in her view.
"Our vision is not only to train people to be the primary care doctors [for geriatric patients], although we do a lot of that," she says, "but also to give them additional skills so that they can influence others – whether that be through policy, program development, research, or education … If we can give them teaching skills or better skills in administration, then they'll be better able to pass that information on."
To learn more about the UConn Center on Aging and its education programs, visit uconn-aging.uchc.edu.