Feature Story
Health Center Today, January 10, 2011
The 19th Century Goes Digital
By Tara Rousseau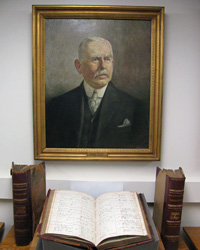 Hartford Medical Society Historical Library.
Photo courtesy of Jennifer Miglus
The Hartford Medical Society Historical Library has its first five titles digitized and available for viewing through the Internet Archive. Librarian Jennifer Miglus says the words in the titles are somewhat jarring to 21st century sensibilities:
Human Monstrosities (4 volumes)
The Pathology of Drunkenness
Report on the Condition of the Insane Poor in the County
Poor Houses of New York
Observations on the Management of Madhouses (parts 1 and 2)
However, the abnormalities in the first title are the subject of real scientific inquiry, not simple prurience; the second title is concerned with a legitimate public health issue, (albeit with a 19th century moralistic slant), and the last three volumes are an attempt to expose the often shocking conditions in which people with mental illness lived in an attempt to improve their care.
You can see the list and access the digitized volumes. The Internet Archive site offers digital page-turning in the 'read online' option, downloadable PDF versions, and searchable text produced by optical character recognition (OCR) scanning. Take a look and see how the 19th century looks in the 21st.
For more information, contact Jennifer Miglus, librarian with the Hartford Medical Society Historical Library at 860-679-3200.
From the September 2010 issue of Bits and Bytes, the IT Department's newsletter.