Feature Story
Health Center Today, January 31, 2011
Gift Honors Father's Love for UConn, Dentistry
Alumnus Instructor Memorializes Father with Dental Fellowship
From the January 2011 issue of Our Moment, the UConn Foundation's e-newsletter.
By Jennifer Huber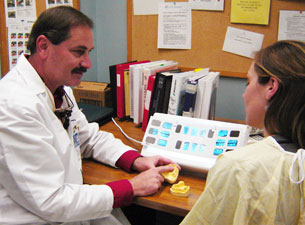 Dr. Bob Kravecs with dental student Jennifer Jaskolka.
Photo by Jennifer Huber
Robert Kravecs, Sr. loved many things, especially his family, the dental profession and the University Connecticut. Following his death, Kravecs's son, Robert Kravecs, Jr., D.M.D., '77 '81, decided to use part of his inheritance to memorialize his father and support the profession and university he had loved so dearly. The Robert A. Kravecs, C.D.T. Fellowship in Dental Medicine, established with a gift of $25,000, will provide support for meritorious students at the School of Dental Medicine.
"We are extremely grateful to Dr. Bob Kravecs for this generous gift in memory of his father, who made such a difference in the field of dental laboratory technology throughout his career," says Dean of the School of Dental Medicine R. Lamont "Monty" MacNeil, D.M.D. "We also deeply appreciate Bob's leadership giving as an alumnus and faculty member. The Kravecs Fellowship will provide critical support for generations of students to come."
The elder Kravecs was drawn to dentistry after serving as a dental technician in the Navy during World War II. When he returned home in 1946, he opened the Kravecs Dental Laboratory, where he manufactured dental prostheses for dentists in the greater Bridgeport area.
"My dad owned the lab for 45 years, and trained scores of technicians, many of whom later established their own dental labs in Connecticut and Florida. In addition, one of his trainees became a dentist, me," says Kravecs. "He was passionate about his craft, and went the extra mile for many dentists, patients, salesmen and employees during his career."
After earning a B.S. in mathematics from UConn in 1977, Kravecs went on to graduate from the School of Dental Medicine in 1981. He has owned a private practice in Fairfield for the last 27 years and volunteers teaching at the School of Dental Medicine.
"As proud as my dad was when I graduated from the UConn School of Dental Medicine, he was even more so when I began teaching in the prosthodontics clinic three years ago," says Kravecs, whose wife, Jesse, also formerly worked as a radiology technician in the UConn Health Center's dental radiology clinic.
Kravecs notes that his father—who was an avid UConn men's and women's basketball and football fan—was thrilled to have many family members attend the University.
"I know that he was proud that so many of us attended UConn for our education. He attended six graduation ceremonies in all," says Kravecs.
Kravecs's son, Robert Kravecs III '06, graduated with dual degrees in history and political science, and is now teaching U.S. history and married to a fellow alumna. Daughter Jocelyn Kravecs '07 '09 earned a bachelor's degree in communications disorders followed by a master's degree in speech language pathology, and now works in the autistic adult program at Chapel Haven in New Haven. His niece, Melanie (Brooks) Brennan '02, graduated with a degree in animal sciences, and is now a veterinarian and married to an alumnus. Several members of Kravecs's extended family attended UConn as well.
"My dad worked hard all of his life. Six days a week when my sister and I were kids, and five 10-hour days a week later on until he retired in 1991. Since he grew up with very little during the Great Depression, he put a lot into savings during his career. He was a very generous man, which I believe is one of the reasons that I have been generous to UConn," says Kravecs. "I hope that other alumni will follow what I have done, and consider making a donation to the School of Dental Medicine."
For more information about supporting the UConn Health Center, please contact the UConn Foundation's development department.