Feature Story
Health Center Today, January 19, 2011
Lieberman Receives Prestigious Urist Award
By Chris DeFrancesco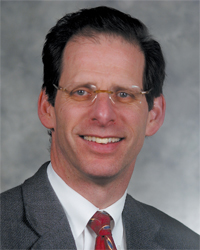 Dr. Jay Lieberman
The Orthopaedic Research Society has presented Dr. Jay Lieberman, director of the New England Musculoskeletal Institute, with the Marshall R. Urist Award for Excellence in Tissue Regeneration Research.
Lieberman, professor and chairman of the Department of Orthopaedic Surgery and a nationally renowned total joint replacement surgeon, accepted the award January 15 at the ORS annual meeting in Long Beach, California.
The Urist Award recognizes researchers who have demonstrated major achievements in the area of tissue regeneration.
Lieberman was selected "in recognition of his outstanding achievements in the field of BMPs and cell-mediated therapies in bone repair, and the impact of his research on tissue regeneration and bone metabolism," says J. Mark Wilkinson, chair of the ORS Special Projects Committee. BMPs are bone morphogenetic proteins, which promote the formation of bone and the skeleton. Urist is the scientist credited with their discovery in 1965.