Feature Story
Health Center Today, January 27, 2011
Students Observe MLK Day by Volunteering to Help Those in Need
By Celia Tvrdik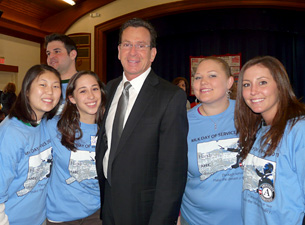 AmeriCorps members with the governor. From left to right are Anna Chang, Sara Servin, Jennifer Sweat, and Erin Royer.
Photo by Celia Tvrdik
UConn students were among those volunteering their time for a day of service on Martin Luther King Day at South Church in Hartford. The event, organized by the Connecticut Area Health Education Center Program (AHEC) and Hands on Hartford, engaged dozens of AmeriCorps members and 100 Youth Health Service Corps (YHSC) students from across the state in volunteer service activities throughout Hartford. Gov. Dannell Malloy, Hartford Mayor Pedro Segarra, and State Representative Kelvin Roldan were among those lending their support at the South Church event.
The day of service marks the 25th anniversary since Martin Luther King Day became a federal holiday. In honor of Dr. Kingís legacy, thousands of Americans across the country and throughout Connecticut were engaged in volunteer service activities, helping their neighbors and their communities.
In 2010, Northwestern CT AHEC received a three year AmeriCorps grant from the Connecticut Commission on Community Service to expand the YHSC program in the state by introducing the YHSC-AmeriCorps Division Program.
AmeriCorps members mobilize YHSC members, as well as community volunteers. The YHSC-AmeriCorps Divisionís class of 2010 is comprised of 14 diverse AmeriCorps members working in high schools across the state. AmeriCorps members are serving as YHSC Coordinators engaging high school students in the YHSC curriculum, giving YHSC members hands on opportunities in the health care settings through health related service learning projects, as well as increasing awareness of the college pathway.
Through the YHSC-AmeriCorps Division program, AmeriCorps members are shaping this new and innovative program by providing YHSC members with additional support services such as mentoring, tutoring, home visits and one on one interaction. Within the first two months of the 2010 YHSC-AmeriCorps Division Class, AmeriCorps members have already recruited over 380 high school students in 16 high schools throughout Bridgeport, Hartford, Waterbury, and Willimantic.