Feature Story
Health Center Today, January 5, 2011
Meet the Health Centerís First Newborn of 2011
By Chris DeFrancesco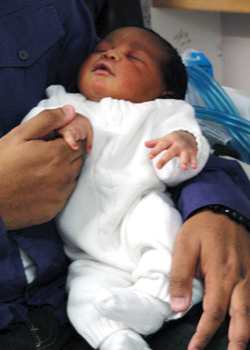 Maisen Kamryn Baxter was the first child born at the UConn Health Center in 2011.
Photo by Kaitlin McCallum, Farmington Patch
Dr. Jay Bolnick delivered the first baby born at the Health Center in 2011. Farmington Patch reports Maisen Kamryn Baxter was born just after 2 a.m., weighing 7 pounds, 13 ounces. See the full story and more photos at http://farmington.patch.com/articles/farmingtons-new-years-baby-happy-and-healthy.