Feature Story
Health Center Today, January 26, 2011
Urban Service Track Update
By Kathleen Keegan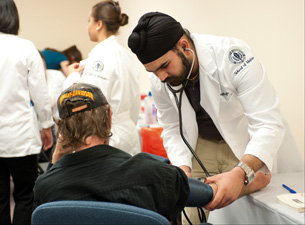 Hardeep Singh, a UConn medical student, measures the blood pressure of a visitor to a community clinic.
A novel interdisciplinary program for UConn medical students and their health professions peers is offering students valuable insight into the plight of underserved patients, who often lack access to high-quality health care.
Now in its fourth year, the Urban Service Track (UST) program exposes the next generation of health care providers to the unique challenges and needs of the most vulnerable patient populations, including urban elderly and youth; migrant and refugee populations; individuals living with HIV/AIDS; the incarcerated; veterans; substance abusers; and the under and uninsured.
To date, 21 Urban Health Scholars have completed the program, in which dental, nursing, medical, and pharmacy students work and learn alongside one another. Students participate in community health clinics and forums, legislative visits to Washington, D.C., and educational events that address such topics as cultural and linguistic barriers, health care financing and management, and community resources. Other elements of the program include specially tailored instruction, mentoring from faculty and community health care providers, and hands-on clinical practice opportunities.
"Working alongside dental, nursing, and pharmacy students at community events strengthens our ability to provide effective health care," says Tiffany Chen, a School of Medicine UST scholar. "Everyone contributes to a cohesive and shared plan of action."
This interdisciplinary approach is what makes UConnís program so innovative. By pooling the various specialties, UST is positioned to address contemporary health care issues, including the nationís shortage of primary care providers.
"The curriculumís inter-professional nature will produce providers prepared for the inevitable changes in health care delivery that ultimately will improve patient outcomes and reduce cost," says Bruce Gould, M.D., UConn associate dean for primary care, director of the Connecticut Area Health Education Center, and the visionary behind USTís creation.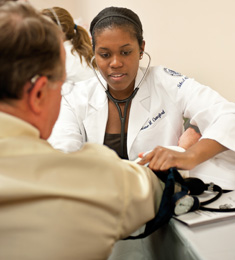 Tara Mould, a UConn medical student, speaks with a visitor to a community clinic.
UST, according to faculty mentor and family practitioner Hugh Blumenfeld, M.D., Ph.D., offers a view into ďhow socioeconomic forces shape the resources available in urban communitiesĒ and the unique medical services and skills needed in those environments.
Connecting with the Underserved
One important measure of the programís success is its evident appeal to students, according to UST director Petra Clark-Dufner. Initially created to support up to 16 students per year, UST now attracts more than triple that number annually.
The roster of scholars is impressive and diverse. Students from Connecticutís urban and suburban areas team up with others native to Albania, Bangladesh, Bosnia and Herzegovina, China, South Korea, and the Ukraine. Some are undergraduates, while others have already earned degrees from Yale, Wesleyan, Brown, Smith, Middlebury, and the California Polytechnic State University. A few are embarking on a second or third career; others are obtaining multiple degrees.
Of the programís graduates, Clark-Dufner says that about half are pursuing residency training or are employed by urban or state hospitals. Another 25 percent work with community clinics and pharmacies.
"Engaging students as they begin their health care careers creates building blocks and establishes an early connection to those (underserved) communities," says Alysia Monaco, Class of 2008 UST graduate and a staff registered nurse at Massachusetts General Hospitalís cardiac surgical ICU. "This ultimately allows provision of the same standard of care to all, regardless of social standing."
Graduate John McCarthy, Class of 2010 salutatorian and retail pharmacist in Hamden, Conn., applauds UST for giving voice to the underserved and for developing a sense of advocacy among students.
"Iíve applied the teachings of UST to every patient who comes into the pharmacy," he says. McCarthy was last yearís recipient of the prestigious Excellence in Public Health Pharmacy Practice Award.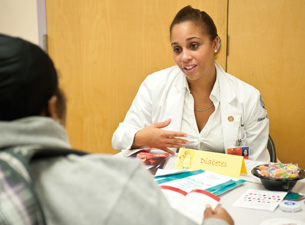 Christine Crawford, a UConn medical student, measures the blood pressure of a visitor to a community clinic.
"The greatest benefit of the UST for me is a very conscious awareness that the playing field for access to quality health care is not level," says Abdullah Wardak, a pharmacy school and UST graduate now employed in the long-term care field and as a part-time retail pharmacist in Hartford.
Improved personal and professional confidence in working with patients is another beneficial aspect of the program, says Laura Huling, a School of Dental Medicine scholar.
UST support derives from state and federal funding along with private and institutional grants, Clark-Dufner says. Among those essential sources are the U.S. Department of Health and Human Services through the Health Resources and Services Administration; the Connecticut Area Health Education Center; UConnís School of Medicine and Center for Public Health and Health Policy; the Connecticut Health Foundation; and the Richard Davoud Donchian Foundation.
"UConnís UST program is a dynamic example of a successful academic and community partnership," Clark-Dufner adds. "It is leading the way in creating a pipeline of high-quality medical professionals who value inter-professional teamwork and patient-centered care for the urban underserved."