Feature Story
Health Center Today, July 14, 2011
UConn Dentists Travel to Alaska to Provide Dentures for Native Communities
By Carolyn Pennington
A group of doctors from the UConn School of Dental Medicine recently returned from its annual outreach trip to the tribes of southeast Alaska to offer them much-needed dental work. The native people near Sitka have little access to dental care providers.
The UConn dentists specifically work on making and fitting dentures. They were there for one week, working 12 to 13 hours each day. They made 24 dentures for 12 patients. This year, approximately 17 of those dentures also included dental implants.
"Denture fabrication is a very labor intensive process that typically takes four to five appointments with lab work in between," says Dr. Thomas Taylor, professor and head of the Department of Reconstructive Sciences. "So 24 dentures in one week for three clinicians is a lot."
This was Taylor's 14th year of providing care to the tribes of southeast Alaska. Dr. David Shafer, chair of the Division of Oral and Maxillofacial Surgery, has been going for the past four years. This year, Drs. Taylor and Shafer were accompanied by three third-year prosthodontic residents and one third-year oral surgery resident.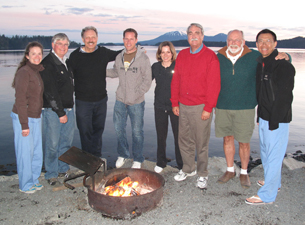 Members of the UConn dental group who did the outreach trip in Sitka, Alaska.
Photos courtesy of Dr. Thomas Taylor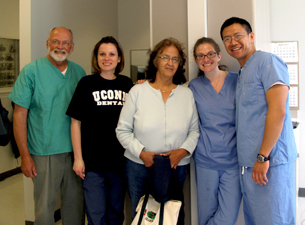 (left to right) Dr. Thomas Taylor; Dr. Marina Funtik, prosthodontics resident; Alaskan patient; Dr . Bridget Willet, prosthodontics resident; Dr. Yu Zheng, prosthodontics resident.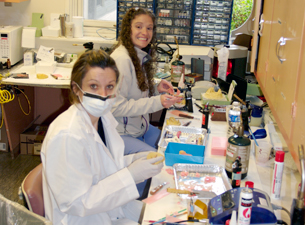 Prosthodontic residents Dr. Marina Funtik (foreground) and Dr . Bridget Willet.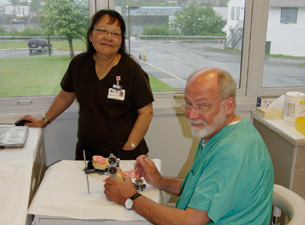 Dr. Thomas Taylor with a dental assistant preparing to fit a patient with new dentures.