Feature Story
Health Center Today, July 11, 2011
50th Anniversary Commemoration on Display at Legislative Office Building
By Carolyn Pennington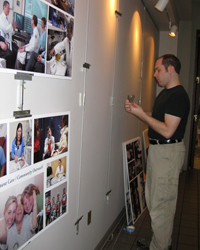 Jeff Eckleberry with Biomedical Media Communication prepares to hang 50th anniversary posters in the LOB.
Photos by Janine Gelineau
The Health Center is sharing its celebration of the 50th anniversary of its founding with the public. Numerous photos are now on display in the Legislative Office Building (LOB) in Hartford. The photos are artfully reproduced on poster board and arranged according to "Past, Present and Future." The future section includes the architectural rendering of the Bioscience Connecticut plan that was recently passed by state legislators.
"The overall goal of the project was to make the public aware of our rich history and the exciting plans for our future," says Wendy Soneson with the Department of Communications.
The display also includes something unique – a poster with several different QR codes which people can scan with their smartphones to view a 50th anniversary themed video.
The presentation is displayed on 25 feet of wall space located outside the LOB's cafeteria – prime real estate which gets a lot of traffic during the summer months, according to Soneson.
The 50th anniversary committee came up with the idea and Irene Peterson and her team in Biomedical Media Communication designed and produced the posters.
The commemorative exhibit will be on display through the month of July.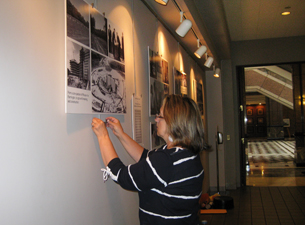 Irene Peterson with Biomedical Media Communication works on the 50th anniversary wall display at the LOB.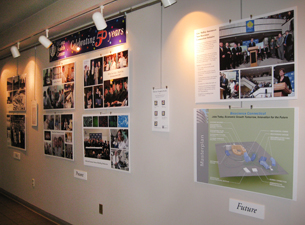 50th anniversary exhibit at the Legislative Office Building in Hartford.
50th anniversary wall display focuses on the Health Center's past, present and future.