Feature Story
Health Center Today, July 19, 2011
High Marks for Geriatrics Rank Dempsey Among 'Best Hospitals'
By Chris DeFrancesco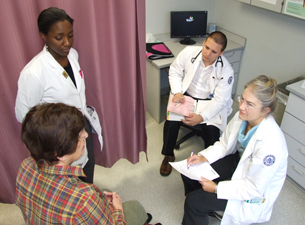 Medical student Abimbola Aderinto (standing) and Dr. Lorand Kristof (back right), a geriatric medicine fellow, observe Dr. Gail Sullivan with a patient in the UConn Center on Aging. The U.S. News & World Report's 2011-12 Best Hospital Rankings identify the geriatrics program at the UConn Health Center's John Dempsey Hospital as a "high-performing specialty." (Click on image for larger view.)
Photo by Chris DeFrancesco
Led by its geriatrics specialty, the UConn Health Center's John Dempsey Hospital has earned a place in the U.S. News & World Report's 2011-12 Best Hospital Rankings.
Overall, Dempsey ranks third among Hartford metro-area hospitals, and is the only Hartford metro-area hospital identified as "high-performing" in geriatrics.
Along with education and research in geriatrics, elder patient care at the UConn Health Center is part of the UConn Center on Aging.
"This recognition speaks volumes not only about the Center on Aging, but John Dempsey Hospital as a whole," says Dr. George Kuchel, Center on Aging director. "The elderly have been and continue to be the most rapidly growing population group, and that's especially true in our region. To best assess the quality of a hospital, you need to first evaluate its metrics when it comes to caring for its most vulnerable patients."
The concept of improving the quality of care for everyone by improving the quality of care for the elderly is central to the vision detailed in the Center on Aging's strategic plan.
"It reflects the commitment to excellence in clinical care, research and education that has been our mission since we opened in 1986," says Kuchel, who holds the Citicorp Chair in Geriatrics and Gerontology. "Moreover, this vision seeks to engage the participation of all who contribute to the care of frail older adults: internists, surgeons, family physicians, psychiatrists, dentists, pharmacists, as well as nurses, social workers, plus physical, occupational and speech therapists."
Dr. Mike Summerer, director of John Dempsey Hospital, says, "This recognition reflects our focus on ideal patient care which supports our educational and research missions. We are emphasizing the importance of providing excellent care not only for our patients, but also so that our students and residents are trained within the best systems and programs for safe, reliable, patient-centered care."
The U.S. News and World Report rankings showcase 720 hospitals out of about 5,000 hospitals nationwide. Each is ranked among the country's top hospitals in at least one medical specialty and/or ranked among the best hospitals in its metro area.
The regional hospital rankings include hospitals with solid performance nearly at the level of nationally ranked institutions. Covering 94 metro areas in the U.S., they give patients and their families more options of hospitals within their community and in their health insurance network.
"These are hospitals we call 'high performers.' They are fully capable of giving most patients first-rate care, even if they have serious conditions or need demanding procedures," says U.S. News health rankings editor Avery Comarow. "Almost every major metro area has at least one of these hospitals."
The U.S. News & World Report's are the country's most extensive hospital rankings. They take into account hard numbers, including death rates, patient safety, procedure volume, and other objective data, as well as responses to a national survey, in which physicians were asked to name hospitals they consider best in their specialty for the toughest cases.