Feature Story
Health Center Today, July 13, 2011
2011 UConn Cancer Research Golf Tournament to Support Technology Upgrade
By Chris DeFrancesco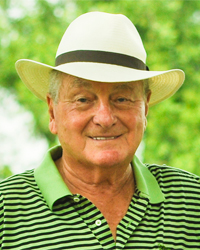 Mark Yellin of Farmington is chair and founding member of the UConn Cancer Research Golf Committee. (Click on images for larger views.)
Photos by Michelle Jay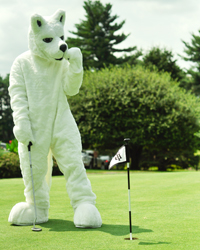 Jonathan the Husky practices his short game at the 2010 UConn Cancer Research Golf Tournament.
Back for its 34th year, the 2011 UConn Cancer Research Golf Tournament tees off Monday, August 1, at the Tumble Brook Country Club in Bloomfield.
This event, organized by a committee of volunteers in conjunction with the UConn Foundation, has raised more than $1.5 million for cancer research, prevention and education over its history. Proceeds from this year's tournament have been designated for a DNA sequencer to aid in research at the UConn Health Center's Carole and Ray Neag Comprehensive Cancer Center. The 2010 event raised $146,000 to support a clinical trials research associate.
"High-speed DNA sequencing is the most technological revolution in biology," says Dr. Pramod K. Srivastava, Neag Comprehensive Cancer Center director. "I use the word 'revolution' advisedly. It allows us to read a person's or a cancer's genetic signature more deeply, more cheaply and faster than even imagined a few years earlier. Thus, it allows us to determine the ways in which cancers are different from normal tissues in unprecedented ways. That knowledge opens the doors an array of diagnostic and therapeutic possibilities."
Registration, practice and lunch start at 11:30 a.m. Shotgun start is at 12:30 p.m. Dinner, including cocktails, awards ceremony, and live and silent auctions, starts at 5:30 p.m.
The Tumble Brook Country Club is at 376 Simsbury Road in Bloomfield.