Feature Story
Health Center Today, July 28, 2011
Health Center History: There's More to Explore
By Noreen Kirk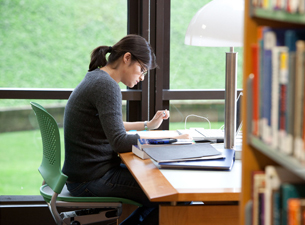 This year's celebration of the UConn Health Center's 50th anniversary appears to have sparked an interest on campus about the Health Center's history and how it became the institution it is today.
"The 50th anniversary section of the Health Center's website (http://celebrate50.uchc.edu) features a lengthy article highlighting various aspects of our history, but many employees, students and friends have expressed a desire to learn more," says Evelyn B. Morgen, director of the Lyman Stowe Library.
Morgen notes that the library offers a list of resources about the Health Center's history and staff librarians can help people access these materials:
Arcari, Ralph D: Facts & Perspectives: the LM Stowe Library, DVD, UConn Health Center, 2005
CT General Assembly: Report on the University of Connecticut Health Center, The Committee, 1975
Deckers, Peter: Mission of the University of Connecticut Health Center, DVD, UConn Health Center, 2007
Koeppen, Bruce M: The education of medical students: ten stories of curriculum change: Assoc of American Medical Colleges, Milbank Memorial Fund, 2000
Massey, Robert: Reflections on medicine: essays by Robert U. Massey. Gordian Knot, 2011
Orkin, Glenn: History of UConn Health Center. UConn Health Center history, DVD, CPTV, 1988
Purcell, Elizabeth: Case histories of ten new medical schools. Josia Macy, Jr., Foundation, 1972
Stave, Bruce: Red brick in the land of steady habits: creating the University of Connecticut, 1881-2006. University Press of New England, 2006
UCHC: A day in the life of the Health Center, VHS, Biomedical Communications Department, UConn Health Center, 1988
Listening to History
In the mid-1980s, prompted by the Health Center's 25th anniversary, a team headed by then-library Director Ralph Arcari interviewed numerous people involved in the institution's early years. The project produced recordings of 64 key individuals, including Homer Babbidge, UConn president from 1962 to 1972; John Dempsey, Connecticut governor from 1961 to 1971; Lois Stowe, widow of the first dean of the medical school, Lyman Stowe; John Patterson, who became medical school dean in 1965; and Lewis Fox, the first dean of the dental school.
Some of the tapes have been converted to digital format, and written transcripts are available for 34 of them. This work is continuing. The library is preparing to make the recordings available online. In the meantime, users are welcome to listen to them in the library.
Images of History
It's said that every picture tells a story. Anyone interested in the Health Center's history will enjoy taking a walk down the corridors on either side of the academic entrance. The spaces feature numerous photographs of graduating classes and former deans, as well as listings of teaching awards.
And Just up the Road in Storrs…
Many documents related to the history of the Health Center are housed in the Archives and Special Collections section at the Thomas J. Dodd Research Center on UConn's Storrs campus. The collection consists of correspondence, reports, minutes, administrative documents and personal papers pertaining to the creation and ongoing development of the medical and dental programs of the University of Connecticut.
University Archivist Betsy Pittman notes that any interested person is welcome to come to the center and explore the materials. The Dodd Center's reference desk is open Monday through Friday from 10 a.m. to 4 p.m. Staff is available to assist users, and there are reproduction services onsite.
Five Decades (Plus!) of Milestones
Here's an overview of some especially significant moments in the life of the University of Connecticut Health Center.
1960s
1961 (June 13) – Governor Dempsey signs legislation authorizing $2 million to plan and develop "medical-dental school." Companion legislation creates Site Selection Committee.
1962 (May 14) – Site Commission unanimously selects O'Meara property in Farmington as location of medical-dental facility.
1963 (May 16) – Lyman Maynard Stowe is named the first dean of the medical school; Lewis Fox, the first dean of the dental school.
1966 (May 17) – Ground is broken in Farmington.
1967 (July 1) – Health Center takes over operation of McCook Hospital in Hartford.
1968 (September 11) – First medical and dental classes begin.
1969 – Hospital construction begins.
1969 (May 21) – Auxiliary founded (University of Connecticut Health Center Association).
1970s
1970 – UConn Health Center opens medical and dental outpatient services in new Burgdorf Health Center, transferring activities from McCook.

1972 (June 5) – First Commencement held.
1972 (September 6) – First classes begin in new building in Farmington.
1973 (March) – Library moves into new building from its temporary quarters in Hartford Insurance Group, Hartford.
1974 (July 2) – First medical outpatient unit (family medicine) opens in Farmington.
1974 (October 1) – First dental clinics open in Farmington.
1975 (February 15) – Hospital opens.
1975 (April) – Neonatal Intensive Care Unit opens.
1976 – Master of Science degree in community health approved and first students enrolled (changed to Master of Public Health degree in 1985).
1977 (May 18) – Dedication of Health Center; hospital named for Gov. John Dempsey.
1980s
1986 – First baby born as a result of in vitro fertilization.
1987 – South Park Inn Student Medical Clinic started.
1990s
1990 – School of Medicine undertakes comprehensive evaluation/revision of curriculum, becoming the first medical school to assess and reconfigure an entire four-year curriculum.
1993 – First-ever Research Strategic Plan, approved by the board of trustees in November 1992, is implemented; results in 50 additional researchers, the creation of two new departments and five new centers.
1993 (December) – National Institutes of Health awards $7 million for General Clinical Research Center.
1994 (May 12) – Andrew J. Canzoneti, M.D. Building dedicated.
1995 – School of Medicine implements progressive new curriculum, which becomes a model for medical schools nationwide.
1999 – Academic Research Building opens, marking first major expansion of research programs.
2000s
2004 (May) – Pat and Jim Calhoun Cardiology Center is named.
2004 (September) – Neag Comprehensive Cancer Center is named (in conjunction with the largest philanthropic gift in the Health Center's history).
2005 (May) – Newly renovated Lyman Maynard Stowe Library dedicated.
2005 – Medical Arts and Research Building, a state-of-the-art facility for a range of musculoskeletal programs and services, opens on the lower campus.
2010s
2010 – Cell and Genome Sciences Building opens, ushering in a new era of bioscience discovery and collaboration.
2011 (June) – Connecticut General Assembly passes the "Bioscience Connecticut" legislation proposed by Gov. Dannel Malloy. The $864 million initiative calls for constructing a new patient tower, a parking garage and an outpatient center; renovating John Dempsey Hospital and the original research building; adding 100 students to the medical school and 48 to the dental school; and establishing a loan forgiveness program for students who become primary care physicians in Connecticut.