Feature Story
Health Center Today, July 1, 2011
Health Center Physician Solves TV Anchor's Dad's Medical Mystery
By Chris DeFrancesco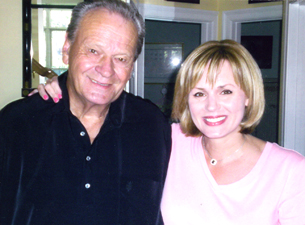 John Carberg (left) is pain-free and back to golfing after being treated for peripheral arterial disease. His daughter, NBC Connecticut anchor Lisa Carberg (center), convinced him to see a doctor about his leg pain after she interviewed Dr. Kanwar Singh about PAD.
Photo provided by Lisa Carberg
A Florida man is pain-free and playing 18 holes of golf again, thanks in part to a UConn Health Center physician who never touched him or even met him.
In January, Dr. Kanwar Singh of the Pat and Jim Calhoun Cardiology Center was discussing a new minimally invasive treatment of peripheral arterial disease during an interview with NBC Connecticut's Lisa Carberg.
Several weeks before, he had become the first physician in the region to use a new device known as the Wildcat catheter to treat a patient with PAD. As the director of vascular medicine and intervention at the Calhoun Cardiology Center, Singh has been offering minimally invasive alternatives to riskier vascular surgical procedures for the last four years.
As Carberg listened to Singh describe common symptoms of PAD—leg pain and discomfort, fatigue of the leg and hip muscles while walking or climbing stairs—she thought it sounded more and more like what was bothering her father, who lives some 1,300 miles away and had been reluctant to seek medical attention. She stayed in touch with Singh after the story and discussed what steps she should take to help her father get evaluated. The more Carberg learned about PAD, the surer she became that she had to convince her father to be checked for it.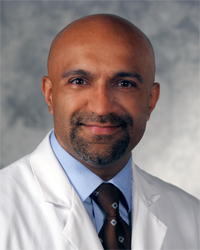 Dr. Kanwar Singh
She did, and he underwent simple non-invasive tests to determine the root cause of his symptoms.
"It turns out my dad had blockages in both legs and got stents in each one," Carberg says. "I am just so happy how it all turned out. It truly gave my dad his life back. No more pain, and he's golfing again! Dr. Singh is so kind, he even followed up with me after my dad's procedure ward to see how he was doing."