Feature Story
Health Center Today, July 18, 2011
A Symbiotic Relationship
By Noreen Kirk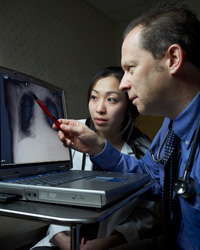 This story is the eighth of a multi-part series on the history of the Health Center. The entire series can be read at the Health Center's 50th Anniversary website.
The UConn School of Medicine and area hospitals have always benefited from one another's existence. With the University's hospital so small, the medical school and its residency programs have depended on Hartford Hospital, the Hospital of Central Connecticut (formerly New Britain General), and Saint Francis Hospital and Medical Center to give their students and residents exposure to a wide range of patients and conditions. Physicians at those hospitals have always given generously of their time and expertise to help educate the physicians of the future, purely out of dedication to their profession.
"We had so few clinical resources when we started," says former Associate Dean Eugene Sigman. "Community hospitals from the beginning made major contributions to the teaching of medical students. In the early days, they gave much more than they got."
"People should recognize the phenomenal cooperation the Health Center has always had from all the other hospitals," says Peter Deckers, former dean of the medical school. "We could not have delivered the educational product without them. We have been the beneficiaries of excellent, long-standing relationships, educationally."
However, the presence of an academic medical center has benefited area hospitals, as well.
While echoing the importance of the contributions made by area hospitals, former Associate Dean Dr. Carl "Fritz" Hinz Jr., adds, "In time, they [community hospitals] profited from having residency programs under the aegis of the University. Specialties and subspecialties became stronger because of the University presence. This strengthened them in their role of providing high-quality care in the community. Ultimately, there was a symbiosis."