Feature Story
Health Center Today, July 8, 2011
Graduate School Students Celebrate 28th Annual Graduate Student Research Day
By Stephanie Rauch
The Graduate Student Organization recently hosted the 28th annual Graduate Student Research Day (GSRD) at the Health Center. GSRD is sponsored by the Graduate Programs Committee and takes place in June of each year. It is a celebration of the end of the academic year and the wide range of research that graduate students are engaged in at UConn.
"The graduate students do a terrific job organizing and running GSRD," said Dr. Barbara Kream, associate dean of the graduate school. "Their commitment and hard work is evident and this is their day to shine."
The day included research talks by students in the seven areas of concentration in the biomedical science Ph.D. program; a judged poster session exhibiting the research of biomedical science and public health graduate students; a research talk by Crystal Morales, last year's Lepow award winner; and a keynote address by an invited researcher. This year's keynote speaker was Dr. Marina Picciotto, the Charles B.G. Murphy professor in psychiatry and professor of neurobiology and pharmacology at Yale University. The goal of Picciotto's lab is to understand the role of single molecules in the complex behaviors related to psychiatric illness. She presented a talk titled "Nicotine and Feeding: How Effects on Appetite Influence Tobacco Addiction."
In addition to research presentations, several awards were announced at the day-long event, including:
Arpita Singh received the 2012 Lepow Award. Established in 1986 in honor of Dr. Irwin H. Lepow, a well-known faculty member, researcher and founding father of the Health Center, this award is given to support the outstanding fourth-year student in the biomedical science Ph.D. program. The recipient receives a monetary award and presents a research talk at Graduate Student Research Day the following year. Singh is a member of the molecular biology and biochemistry area of concentration; her mentor is Dr. Kimberly Dodge-Kafka.
Dr. Asis Das, professor of Molecular, Microbial and Structural Biology, was selected as the 2011 recipient of the Osborn Biomedical Science Graduate Teaching Award. The basic science chairs established the Osborn Award for Excellence in Graduate Teaching in Biomedical Science in 2005. This award honors the many important contributions to graduate education by Dr. Mary Jane Osborn, past chair of the Department of Microbiology, member of the National Academy of Sciences, and currently professor emerita at the Health Center. The intention of this award is to recognize a Health Center graduate school faculty member for his/her commitment to providing the best education in the classroom and training in the laboratory.
Poster presentation winners:
Pin-Fang "Ivy" Chen, Ph.D. student, Department of Genetics and Developmental Biology
Mentors: Marc Lalande and Stormy Chamberlain
Poster: "FOX splicing factors and UBE3A neuron-specific imprint in Angelman syndrome iPS cells and derivatives."
Harry Qui, Ph.D. student, Department of Immunology
Mentor: Dr. Adam Adler
Poster: "CD134 (OX40) plus CD137 (4-1BB) dual costimulation drives cytotoxic CD4 Th1 cell differentiation."
Kaitlyn Vernier, Ph.D. student, Department of Cell Biology
Mentor: Dr. Linda Shapiro
Poster: "CD13 is involved in immune cell trafficking in inflammation and solid tumors."
Special thanks to this year's Graduate Student Organization leaders, Brandon Albright, Ryan Rogers and Erika Hoyos, for their hard work and dedication to the graduate programs.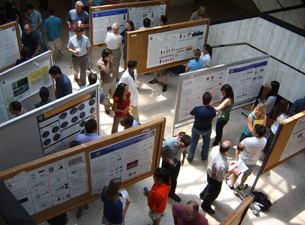 Poster presentations displayed in the academic lobby for Graduate Student Research Day June 9.
Photos courtesy of Stephanie Rauch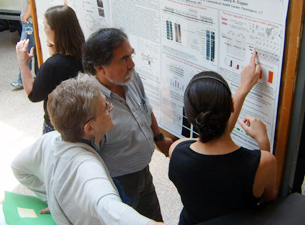 Graduate school faculty Dr. Carol Pilbeam and Leonardo Aguila talk with doctorate in biomedical science student Mathilde Bonnemaison about her research.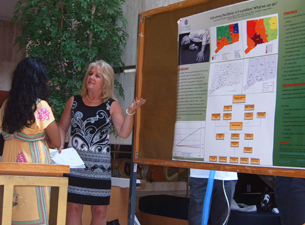 A biomedical science student listens to registered nurse Cheryl Marenick, who is pursuing a master's degree in public health.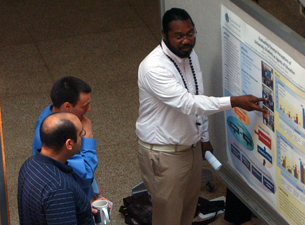 Ailton Coleman, who is pursuing a doctoral degree in public health, discusses his research with biomedical science students Brandon Albright and Kareem Mohni.