Feature Story
Health Center Today, July 5, 2011
Congratulations to Pediatric Dentistry Residents
By Elizabeth Whitty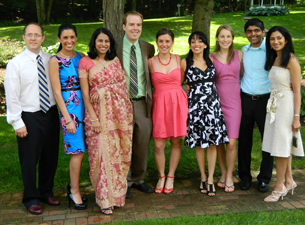 (left to right) Michael Bingham, Carolina Rojas, Pradeepa Padmanabhan, Jared Sorensen, Natasha Larson, Rocio Saavedra, Amy O'Callaghan, Milan Patel and Natasha Bramley at the 2011 Pediatric Dental Resident Graduation.
Photos courtesy of Liz Whitty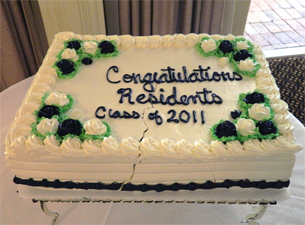 Graduation for the 2011 Pediatric Dentistry Residents was held at Avon Old Farms Hotel on June 18. First-year residents Natasha Bramley and Amy O'Callaghan held a lunch buffet and awards ceremony in honor of the graduates. The event culminated in a video that detailed the many events, exploits and experiences the graduates had over the past two years. Each graduate spoke of their time at UConn with fondness and gratitude for an excellent education and close relationships.
This year's graduates included Jared Sorensen who with his wife and two children are heading west for a private practice in Phoenix, Arizona; Rocio Saavedra has taken a faculty position at the University of Maryland Pediatric Dentistry Program; Carolina Rojas with her husband Rodrigo and daughter Emilia are moving back to her home country of Chili to practice there; Pradeepa Padmanabhan is staying at UConn as a faculty member; and Natasha Larson who is from Wisconsin is going to practice in New York City.