Feature Story
Health Center Today, June 15, 2011
Dental Alumni Gather at AAPD Conference
By Jennifer Huber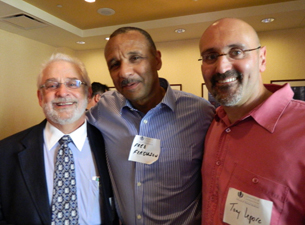 Dr. Edward Sonnenberg '75 (left) started a private practice in 1980 and taught at Columbia University for more than 15 years. Fred Ferguson '75 (center) is Distinguished Teaching Professor Pediatric Dentistry at Stony Brook University and the founder and president of About Smiles, Inc. Antonio Lepore '93 (right) has a practice in Southbury, and recently traveled to Chile to provide dental services to the Mapuche community.
More than 100 alumni and family members attended the UConn School of Dental Medicine alumni reception at the American Academy of Pediatric Dentistry 64th Annual Session in New York City. The reception was held at the New York Marriott Marquis in Times Square on May 28.
"The UConn alumni reception was the highlight of the AAPD conference for me. It gave us a chance to catch up and reminisce about our days in Farmington. All of us were excited to see our professors," says Dr. Christina Santos-Tomas, '06, who practices at Newington Children's Dentistry.
The event attracted alumni from across the country and Canada, as well as numerous faculty members. Guests received the school's first-ever alumni yearbook, which was dedicated in memory of Dr. Cosmo Castaldi, founder of the UConn Division of Pediatric Dentistry.
"The alumni reception was a truly special evening. It was wonderful to have an opportunity to gather with former students and find out where their paths have taken them," says Professor and Chair of the Division of Pediatric Dentistry Dr. Mina Mina. "The UConn School of Dental Medicine is a tight knit community. The AAPD conference was like a family reunion."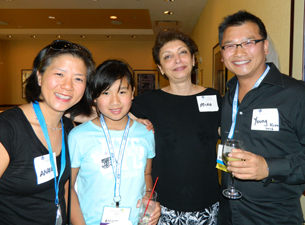 Chair of the Division of Pediatric Dentistry Dr. Mina Mina (second from right) with Dr. Young Tze Kuah '96 (right) and his family. In addition to his full-time practice, Kuah is an assistant clinical professor of orthodontics and pediatric dentistry at the University of British Columbia.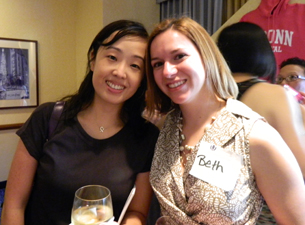 (From left) Suhn Kim '10 and Beth Cipes Chisholm '10, who joined her mother's, Monica Cipes '84, practice in West Hartford.