Feature Story
Health Center Today, June 29, 2011
New England Musculoskeletal Institute Bone Repair Research Makes Cover
By Chris DeFrancesco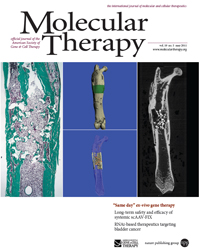 Researchers from the New England Musculoskeletal Institute have come up with a way to speed up and enhance bone repair, and their work is featured on the cover of the May 2011 journal Molecular Therapy.
This new approach involves obtaining stem cells from bone marrow, genetically engineering them with a virus that carries a bone formation gene, and in the same day implanting them into the bone defect.
Drs. Jay Lieberman, Mandeep Virk, Hicham Drissi, Douglas Adams and Osamu Sugiyama collaborated with researchers from UCLA and Stanford.