RSS
Watch the Video
Feature Story
Health Center Today, June 6, 2011
Countdown to Calhoun Cancer Challenge Ride
By Carolyn Pennington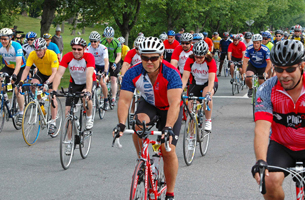 Itís not too late to sign up for the NBC Connecticut Jim Calhoun Cancer Challenge Ride and Walk taking place this Saturday, June 11, in Simsbury. The event benefits the Carole and Ray Neag Comprehensive Cancer Center and Coaches vs. Cancer.
The director of the Neag Comprehensive Cancer Center, Dr. Pramod Srivastava, says the money raised goes to several areas including advancing research, promoting patient care and sustaining the stateís tumor registry and tumor bank.
"Cancer touches the lives of everyone," says Srivastava. "So I thank everyone who has participated by walking, by riding, by making it possible in any way shape or form. I thank them all for their wonderful effort."
UConn menís basketball coach Jim Calhoun, a three-time national champion and three-time cancer survivor, will participate in the bike ride along with a number of assistant coaches and former players.
The Health Center is fielding four different teams this year. The UConn Fritz Freeriders with team captain Joyce Fritz; Calhoun Cardiology with team captain Dr. Peter Schulman; UConn Rosenkrantz Riders with team captain Dr. Ted Rosenkrantz; and UConn Neag Cancer Center with team captain Jody Blumberg.
There will be rides of 10, 25, 50 and 75 miles and a 5K walk/run. The event will kick-off at the Performing Arts Center at Simsbury Meadows on Iron Horse Boulevard.
The UConn Health Center Department of Dermatology will offer free skin cancer screenings to anyone in attendance.
For more information or to register online, visit the NBC Connecticut Jim Calhoun Cancer Challenge Ride and Walk website.