Feature Story
Health Center Today, June 9, 2011
Deans' Symposium on Continuous Quality Improvement
By Shannon McClure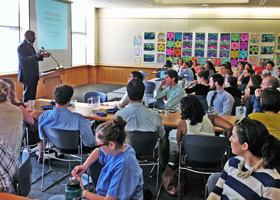 Dr. Cato Laurencin addresses the participants of the Dean's Symposium on CQI on June 6.
Photo courtesy Dr. Bruce Gould
The UConn School of Medicine hosted the seventh annual Deans' Symposium on Continuous Quality Improvement (CQI) at the Health Center on June 6.
Dr. Cato T. Laurencin, vice president for health affairs and dean of the medical school, said "We're on a relentless mission to improve how we deliver health care. I believe that high-quality, safe health care is the result not just of individual excellence, but of well-designed systems, processes, and a collective effort by everyone that works here at the Health Center."
Events during the CQI Symposium included a deans' luncheon, poster session and keynote address.
The keynote speaker was Dr. Frank Davidoff, editor emeritus of Annals of Internal Medicine, and executive editor of the Institute for Healthcare Improvement (IHI), an independent, not-for profit organization based in Cambridge, Mass. Davidoff says IHI believes that everyone deserves safe and effective health care, and has been working with health care providers and leaders throughout the world to fulfill that promise. IHI focuses on motivating and building the will for change; identifying and testing new models of care in partnership with both patients and health care professionals; and ensuring the broadest possible adoption of best practices and effective innovations. Davidoff congratulated the medical school for being on the cutting edge of quality improvement.
During the poster session, students and residents presented posters of projects they completed during their Multidisciplinary Ambulatory Experience (MAX) rotation. All students rotating through a community internal medicine site participate in the site's CQI activities and do a year-long project. A student team from the Internal Medicine Associates at the Health Center won the CQI poster contest highlighting their project on osteoporosis awareness and prevention.