Feature Story
Health Center Today, June 13, 2011
A New Way to Cheer Up Hospital Patients
By Chris Kaminski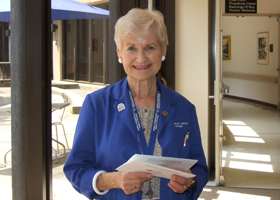 UConn Health Center volunteer Moreen Zachariasen on her way to deliver E-Cards to hospital patients.
Photos by Sheryl Rosen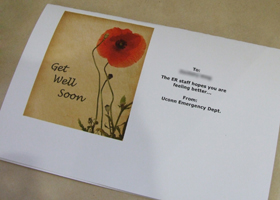 Would you like to cheer up a family member or friend that's in the hospital? Send them an E-Card! It's a free service that's offered by the UConn Health Center.
"An E-Card is a fun and easy way to send your best wishes to someone in the hospital," says the director of the Department of Patient Relations and Volunteer Services, Carlene L. Bartolotta. "All anyone has to do is visit our website, select a card from our card library, type in the necessary information, and we'll take care of the rest," adds Bartolotta. E-Cards are printed and delivered daily by a staff member or volunteer. Approximately 15 to 20 cards are delivered to maternity and hospital patients on a daily basis.
The UConn Health Center's Emergency Department has been sending E-Cards to patients that are admitted to the John Dempsey Hospital. "It's a great way to touch base with individuals who have been admitted to the hospital from the Emergency Room. It lets them know that we're still thinking about them even after they are no longer in our care," says nursing manager David J. Cusick.
Patients enjoy receiving the personally delivered E-Cards. "It's a nice little surprise that brightens up someone's day," says volunteer Moreen Zachariasen.
To send a greeting to a patient admitted to the John Dempsey Hospital, visit the UConn Health Center's Patient E-Card webpage.