RSS
Listen to the Report on WTIC 1080 News with Bill Pearse, June 20, 2011
Feature Story
Health Center Today, June 20, 2011
Austin and Liang Named to Interim Positions
By Carolyn Pennington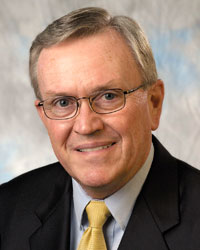 Philip E. Austin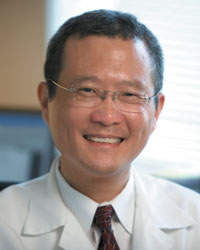 Dr. Bruce T. Liang
UConn President Susan Herbst has announced that former UConn President Philip E. Austin has agreed to serve as the Health Center's interim vice president for health affairs while a national search is conducted to identify Dr. Cato T. Laurencin's replacement. In addition, Dr. Bruce T. Liang, director of the Pat and Jim Calhoun Cardiology Center, and an accomplished leader in academic medicine, has agreed to serve as interim dean of the UConn School of Medicine.
In his term as president, from 1996 to 2007, Austin led the University through some of the most transformative moments in its history. He oversaw major infrastructure projects on campus, boosted philanthropic support, and greatly strengthened the academic mission. Last year, Austin returned to the University to serve as interim president while the search for current President Susan Herbst's position was underway.
"I am grateful beyond words that Phil has agreed, once again, to provide leadership and guidance to this institution," says Herbst "He is deeply familiar with the Health Center, and is dedicated to our success."
Dr. Liang has led the Calhoun Cardiology Center since 2002, when he joined UConn from the University of Pennsylvania. Liang serves as the Ray Neag Distinguished Professor of Vascular Biology and Cardiology and has led advances in clinical care, education, and research.
"It is an honor and a privilege for me to take on the position as interim dean of the medical school," says Liang. "In my new position, I will do my best to serve the School of Medicine in an open and collegial fashion."
UConn Provost Peter Nicholls has initiated a national search for a permanent leader, reviewing possible executive search firms, in order to locate the next vice president and dean.
In a message to the Health Center community, Herbst said she has decided "through study of various health sciences universities and centers over the years, that we maintain the singular position, given the nature of our center, our context, and this particularly specialized labor market: We will only attract the highest caliber of leader if we maintain the position as currently structured."
In addition to hiring a firm, the provost is working on the search committee composition. Herbst says it will be a broad and diverse committee, representing all vital constituencies, including Health Center faculty and staff.
Herbst also announced that she will be visiting the Health Center regularly to gather input from faculty, staff and students about the Health Center's future and next leader. The first "town hall" meetings are scheduled for August 11 and 22 between 10 a.m. and 2 p.m. in Keller Auditorium.
The search for a new leader is expected to take six months to complete.