Feature Story
Health Center Today, June 16, 2011
Dr. Cato T. Laurencin Steps Down as Vice President of Health Affairs and Medical School Dean
By Carolyn Pennington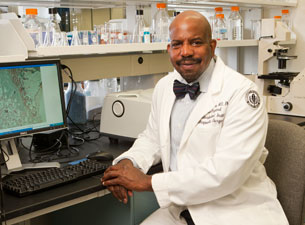 Dr. Cato T. Laurencin
Dr. Cato T. Laurencin will step down as vice president for health affairs and dean of the medical school effective July 1. Laurencin, who arrived at the Health Center nearly three years ago, will continue conducting research, mentoring and providing clinical care.
Specifically, Laurencin will focus his work as chief executive officer of the Connecticut Institute for Clinical and Translational Science (CICATS) and director of the Institute for Regenerative Engineering. In addition, he will remain the Albert and Wilda Van Dusen Distinguished Chair in Orthopaedic Surgery and continue to practice orthopaedic surgery.
"While many people worked hard over many years to secure a healthy future for the UConn Health Center, no one toiled as tirelessly toward this goal as Dr. Cato T. Laurencin," says UConn President Susan Herbst. "I could not be more grateful for his contributions -- locally and internationally -- as a scholar, a physician, and a leader."
"Assuring the long-term future for the Health Center was my number-one goal in coming to UConn and I'm excited it has been accomplished," says Dr. Laurencin. "The legislative approval of Bioscience Connecticut and its transformative construction projects over the next six years will firmly place the UConn Health Center in a position to be a top-tier academic medical center, a destination place for health care and an economic driver for the region and the state."
He also noted that CICATS "has the potential of uniting the region as a force in the development of bioscience." As CEO of CICATS, Laurencin will help further develop cross-university and translational research that is integral to the success of Bioscience Connecticut.
During Laurencin's tenure, the Health Center experienced positive financial margins, record-setting grant awards and success in philanthropy.
"I want to thank the extraordinary teams of individuals who worked so hard with me to make all of this happen," says Laurencin. "I'm proud of the accomplishments we've had over the past three years. I believe that the future for the Health Center is extremely bright."
Herbst says an interim vice president will be named shortly and a committee will be appointed to begin a national search for Laurencin's successor.