Feature Story
Health Center Today, June 23, 2011
Auxiliary Remembers Celeste LeWitt, Presents Scholarships
By Chris DeFrancesco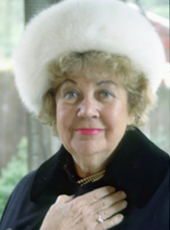 Celeste LeWitt, 1918-2011, was remembered with a moment of silence during the Auxiliary's annual meeting, held in the art gallery that was named after her.
Photo provided by the
LeWitt family
In the art gallery that bears her name, the UConn Health Center Auxiliary paused its annual meeting for a moment of silence in memory of Celeste LeWitt.
LeWitt had an active role with the Auxiliary in establishing the Health Center's art collection, which to date has more than 1,500 pieces and continues to grow. She passed away March 6.
The tribute to LeWitt concluded the June 21 meeting, which included presentation of the Auxiliary's 2011 scholarship winners.
Dr. Pawandeep Gill, a Master of Dental Science candidate, accepted a $5,000 award. Her research focus is on an orthodontic procedure to treat overbites.
Amy D'Agata, a certified dental assistant in the UConn School of Dental Medicine, and Amanda Ciervo, who works in both the Lyman Maynard Stowe Library and the Center for Advance Reproductive Services, each received a $2,500 nursing scholarship.
D'Agata is studying at Goodwin College. Her plan is to earn her RN degree in December, go to UConn for a Bachelor of Science in nursing, and then study to become an advanced practice registered nurse.
Ciervo, who also won an Auxiliary nursing scholarship last year, is going into her senior year at Central Connecticut State University.
The Auxiliary had been awarding $50,000 annually in scholarships, a majority going to medical and dental students. Most of that money instead now is going toward a fund that will help offset students' travel expenses.
"We used to give $5,000 scholarships to two dental and four medical students," says Faciliator Irene Engel. "Now we're taking that same $30,000 and making it available for when students travel for research or mercy missions. More students should benefit this way."
The Auxiliary also purchased a high-power objective lens for a fluorescence microscope for the core lab in the Cell and Genome Sciences Building, and is renewing its contract with the Homewood Suites, Engel announced. July 1 marks the start of the fourth year of the Auxiliary's "Family Place," an arrangement with Homewood Suites that provides free accommodations and meals for parents while their newborn is receiving care in the NICU.
On Sunday, June 26, a memorial service will be held for Celeste LeWitt at the New Britain Museum of American Art. Her family asks those wishing to attend to RSVP to Michael LeWitt, mlewitt@pol.net or 610-506-3780.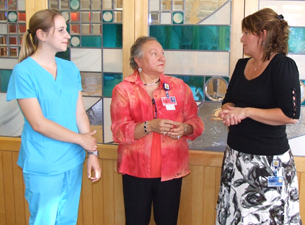 Nursing scholarship recipients Amanda Ciervo (left) and Amy D'Agata (right) chat with Auxiliary Facilitator Irene Engel at the Auxiliary's annual meeting.
Photo by Chris DeFrancesco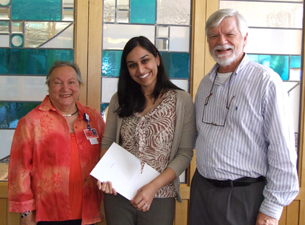 Engel and Dr. Art Hand, assistant dean for medical and graduate education (right), present Dr. Pawandeep Gill with a $5,000 scholarship to apply toward her Master of Dental Science studies.
Photo by Chris DeFrancesco