Feature Story
Health Center Today, June 30, 2011
Leadership Unveils Elements of 'Master Plan'
By Chris DeFrancesco
Master Plan
Click on image for larger view.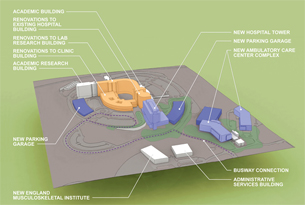 The Master Plan is expanding to include components of Bioscience Connecticut, including an ambulatory care center and renovation of the "L" building.
A "Master Plan" of the UConn Health Center's hospital construction and renovation projects is taking shape, and the steering committee tasked with creating it is out with some early details.
In addition to the plans approved last year to renovate John Dempsey Hospital and build a second patient care tower, the Master Plan is in the process of being expanded to include renovations called for under Gov. Dannel P. Malloy's Bioscience Connecticut proposal. Those would include renovation of the "L" building, construction of a new ambulatory care center on the lower campus, and increases in class sizes at both the medical and dental schools.
Dr. Cato T. Laurencin, vice president for health affairs and medical school dean, together with the steering committee, outlined elements of the plan in an announcement to Health Center faculty, staff and students:
New Tower
New tower to be located to the north of the hospital building, replacing the existing parking plaza
169 new private patient rooms for services including the ICU, Step Down Unit, Hematology/Oncology, Orthopaedics and Medical/Surgical services
A new emergency department with 37 private rooms
New 12 operating room suite (includes two hybrid ORs)
New lobby with amenities
New inpatient dialysis
New in-patient rehabilitation center
Two new parking garages for the new tower with a total of 800 parking spaces, plus a garage with 1,000 spaces for the new ambulatory care center
Establishment of a medical education floor to accommodate growth in the medical and dental schools, and a clinical support floor
Relocation of the dental clinics to the ambulatory care center
Existing John Dempsey Hospital
Upgrades to the Pat and Jim Calhoun Cardiology Center and interventional suites
Upgrades to clinical laboratories which will relocate and expand to space vacated by the ORs
Relocation and expansion of the pharmacy
Expansion of outpatient services within the Neag Comprehensive Cancer Center
The steering committee, building committee, clinical staff, architects, interior designers, structural engineers and planners are collaborating on a schematic design of the hospital construction and renovation projects. That process is expected to take several months.