Feature Story
Health Center Today, June 21, 2011
Scientists Receive Research Awards to Study Osteoporosis
By Emily Luskind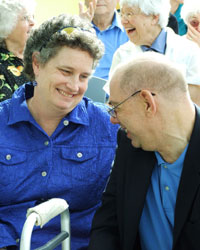 State Senator Beth Bye talks with a relative of the late Jo-Anne Smith.
Photos by Tina Encarnacion
During the second annual Jo-Anne Smith, M.D. Memorial Research and Education Fund reception, two awards were given to Health Center scientists pursuing research in the field of osteoporosis.
The purpose of the memorial is to fund meritorious pilot projects in clinical research on osteoporosis, and to support interested students, trainees and junior faculty in exploring osteoporosis research. Dr. Smith cared for many patients with osteoporosis and was also involved with clinical research over her long career at the UConn Health Center. Smith died of breast cancer in 2009.
This year's award recipients and their research focus are Kevin Wai Hong Lo, Engineered Regeneration of Bone Tissue for Treating Osteoperosis through an Osteogenic Small Molecule, Phenamil and Heather L. Hutchins-Wiese, The Validation of a Food Preference Survey with Reported Dietary Intake and Associations with Bone Density in Postmenopausal Women.
Last year's recipients Dr. Aditya Tadinada and Dr. Faryal Mirza were also in attendance as well as special guest Connecticut State Senator Beth Bye.
Donor support for this fund will help to continue osteoporosis research. Contributions can be made to UConn Foundation, Inc. Please note the name of the fund on your check: Jo-Anne Smith M.D. Memorial Fund.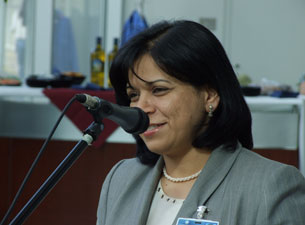 Last year's award recipient Dr. Faryal Mirza speaks during the event.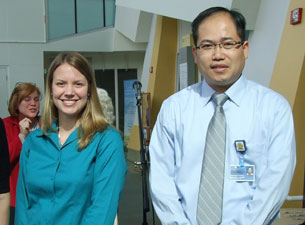 Award winners Heather Hutchins-Wiese and Kevin Wai Hong Lo.