Feature Story
Health Center Today, June 7, 2011
NEMSI Research Day Marks Its Fifth Year of Collaborations Between Basic Science and Clinical Faculty
By Carolyn Pennington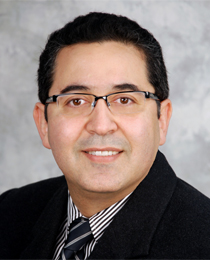 Hicham Drissi, director of Orthopaedic Research.
The New England Musculoskeletal Institute (NEMSI) will host its annual Research Day this Friday, June 10. The program attracts basic science and clinical faculty who share their latest research findings with the goal of increasing collaborations in areas related to bone, cartilage and tissue.
"The musculoskeletal community at the Health Center, its collaborators in Storrs and in the private sector benefit greatly from this event in both the short and long term," says Hicham Drissi, director of Orthopaedic Research. "The most unique feature of the NEMSI Research Day is our ability to bring together biologists, stem cell scientists, engineers, clinicians, clinician scientists, students and residents to talk about their work."
Drissi says the event fits within NEMSI's mission to foster a multidisciplinary approach towards education and excellence in research. "It enables people from different disciplines to identify potential collaborators or new areas of investigation that could enhance their research programs."
It's been five years since the first research day was held and each year the event has grown. "Since that initial Research Day, we have increased in size from the MARB seminar room to the Cell & Genome Sciences building at 400 Farmington Avenue," says Anne Horbatuck, chief operating officer of NEMSI. "The first program was just lectures by each principle investigator about their research. Now we have grown to include lecturers who have collaborations not only here at the Health Center but also with researchers in Storrs, who are also presenting."
Over the past few years, the event has also featured a keynote lecture from a high-profile and internationally renowned scientist to provide a broader picture of a particular aspect of musculoskeletal biology and pathology.
This year's keynote speaker is Dr. Matthew Warman, professor of genetics and orthopaedic surgery at Harvard and director of the Orthopaedic Research Laboratories at Boston Children's Hospital. Warman is one of the few Howard Hughes investigators in the nation who works in the musculoskeletal research field. His talk will discuss Wolff's Law, Lrp5, and the local regulation of bone mass.
About two years ago, Horbatuck says the event incorporated a poster session in which other researchers who are not presenting can also display their work and give them a chance to discuss their findings and novel concepts in an informal setting.
"We are very enthusiastic about this annual event and we invite the whole scientific community at the Health Center and Storrs as well as their affiliates to attend," adds Drissi.