Feature Story
Health Center Today, June 16, 2011
Researchers Study Genomic Stability of Human Induced Pluripotent Stem Cells
By Carolyn Pennington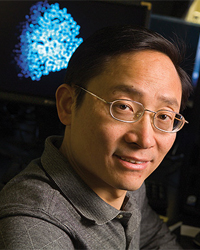 Dr. Ren-He Xu
Researchers from the Department of Genetics and Developmental Biology have identified important changes in genomic stability of human induced pluripotent stem (iPS) cells. Their findings are currently published in the online edition of Nature Biotechnoloy.
The usefulness of human iPS cells in research and therapeutic applications highly relies on their genomic integrity and stability. Induced pluripotent stem cells are an embryonic stem (ES) cell-like cell type derived from adult tissue, instead of human embryos, via a process called reprogramming.
"We found that human iPS cells, like ES cells or other cultured cells, develop small variations in the copy number of some DNA sequences in their genome during derivation and maintenance of the cells," says Dr. Ren-He Xu, associate professor of genetics and developmental biology. "These changes are important to identify and watch because some of them may affect the potential of the stem cells to develop to certain functional cell types that we want for research and therapeutic applications, and some may even cause tumors."
The team's findings have prompted Xu to highly recommend that scientists using human iPS cells in their research closely check the genomic stability of the cells, including their chromosome number and structure, and copy number variation in their genome.
The University of Connecticut has created a new Induced Pluripotent Stem Cell and Chromsome Core (iPSCC) laboratory which will provide services, training and products related to pluripotent stem cells including iPS cell derivation and iPS cell vector production at the Cell and Genome Sciences Building in Farmington. Xu and his team have extensive quality control experiences in deriving iPSCs for scientists from both academia and industry in the state and across the country.
Other Health Center researchers involved with the study include Leann Crandall, Kristen Martins-Taylor, Tiwanna Compton and Marc Lalande.