Feature Story
Health Center Today, March 4, 2011
Cell and Genome Sciences Building Wins Prestigious Laboratory Design Award
By Carolyn Pennington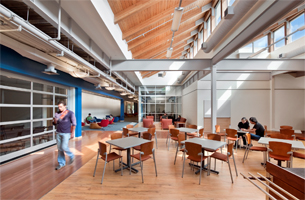 Crossroads area of Cell and Genome Sciences Building.
The Cell and Genome Sciences Building has been awarded the 2011 Renovated Laboratory of the Year by R&D Magazine.
"This is a great honor and attests to the talent and tireless efforts of Roger Goldstein and Michael Feeley and their team at Goody Clancy and of Tom Trutter and Kevin Norton and their Health Center colleagues," says Marc Lalande, associate dean of research planning and coordination.
The Laboratory of the Year competition, now in its 45th year, evaluates laboratory facilities on lab planning and design, flow, plant operations, aesthetics, energy efficiency, sustainability, cost, and more.
In its award announcement, R&D Magazine stated: "The transformation of the University of Connecticut Health Center's Cell and Genome Sciences Building in Farmington from a nondescript, late-1970s industrial research building into a state-of-the-art university research facility demonstrates how older buildings can find new life. Architect Goody-Clancy of Boston brought daylight into interior corridors and reconfigured the floor plan to facilitate workflow and collaboration."
A profile of the facility will be published in the May/June 2011 issues of Laboratory Design Newsletter and R&D Magazine.
The Cell and Genome Sciences building located at 400 Farmington Avenue is 117,000 square feet with more than 100 scientists working within its 25 laboratories. It is the newest addition to the Health Center's research enterprise.
The building houses sophisticated technologies including highly specialized imaging equipment; 3-dimensional, laser-based microscopes; a major data center and super-computers; and next-generation sequencers. It also features the "crossroads" meeting area and the Edmund and Arlene Grossman Auditorium which were specifically designed for optimal use for scientific presentations, demonstrations and interdisciplinary and regional research symposia. It also includes incubator space for emerging bioscience industries.