RSS
Watch the Video
Feature Story
Health Center Today, March 24, 2011
Medical School Reaps the Benefits of Student's Passion for Photography
By Carolyn Pennington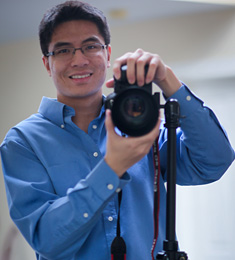 Pauley Chea, second-year medical student.
As a kid growing up in Waterbury, second-year medical student Pauley Chea loved cameras and taking photographs.
"I love the ability to freeze a moment in time," explains Chea. "In real life, everything is moving, everything is dynamic. A photograph is a snapshot in time so you can really take your time studying a scene and looking at everything as a whole."
Chea was able to continue his beloved hobby while as an undergraduate at the University of Connecticut taking pictures for the Daily Campus school newspaper and videotaping short news pieces and documentaries for UCTV, the school TV station.
"It was a lot of fun and it gave me a way to see things and attend events that were happening around campus," says Chea. "I was able to meet and talk with a lot of interesting people – people I probably would not have met otherwise."
Chea was accepted into the School of Medicine after graduating from UConn in 2009 with a degree in physiology and neurobiology. Once school administrators learned about his creative talents, they asked him to produce a video they could show prospective students who came for a tour of the medical school.
"I was happy to do it," says Chea. "During my first year of medical school, I was so busy I didn't have much spare time so this was an opportunity to revisit my hobby."
Chea collected student photos from various sources, added some of his own, and packaged them together with music. Those who work in the Admissions Office have been thrilled with the video and say it offers a great first impression of the school.
"It engages all of our applicants who watch the video intently and smile the entire time they are watching," says Elizabeth Whalen, medical school admissions program coordinator. "It relaxes them and takes the edge off of their anxiety while they are waiting. Employees and students recognize those who are in the video – everyone comments on the video – everyone loves it! "
Chea believes some of the interpersonal skills he uses to take photographs may help him with his medical career. "When you're taking a stranger's picture, you have to form a quick connection with that person. A lot of people aren't comfortable around cameras so you have to put them at ease, develop a rapport with them. It's similar when you meet a patient for the first time. You have to quickly build a relationship with them so they trust you."Chea initially thought he would specialize in emergency medicine but his love of photography is pulling him toward radiology because of the advanced imaging technology used in that field. Whatever career he decides on, Chea says, "I hope to continue this hobby and find a way to integrate this love of mine into the work I do."